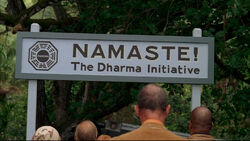 Namaste (नमस्ते [nʌmʌsˈteː]) is a Sanskrit salutation, frequently accompanied by a pressing together of the palms at the chest and a slight bow. It is commonly used in yogic practice. It is composed of "namas" meaning "obeisance" and "te" meaning "you".[1] Translations range from the more literal "I humble myself to you" to the more poetic "May the good in me honor the good in you" and "My spirit bows to your spirit." Conceptually, speaking "namaste" pays homage to the inner light in all living things.
"

Commonly written "Namaste", it is pronounced as "Namastay" with the first two a's as the first a in "America" and the ay as in "stay", but with the "t" pronounced soft with the area just behind the tip of the tongue pressing against the upper-front teeth with no air passing (as the t in "tamasha").

"

—Jai Maharaj
On Lost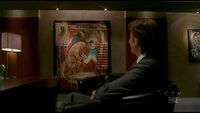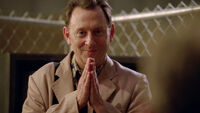 Related greetings and gestures
Non-canon
Used frequently by employees of the Hanso Foundation in The Lost Experience.

It is also regularly used by Alvar Hanso in his letters and public speeches.

In a promotional video for Ajira Airways, the flight attendants end the video by clasping their hands together and saying in unison "Namaste."[2]
A song written about Lost by metal band Veil of Maya[3]
Definition
Definition(s) according to Dictionary.com:
"a conventional Hindu expression on meeting or parting, used by the speaker usually while holding the palms together vertically in front of the bosom."
"a bow and gesture of greeting or parting with the palms together in front of the chest; also, expressing respect through this gesture and bow"
See also
External links