Mokule'ia Beach is a filming location in north Oahu that borders some of the last undeveloped sections of shoreline on the island.
Location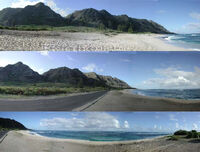 To get to Mokule'ia Beach, travel north toward Haleiwa from central Oahu on Highway 99 (Kamehameha Highway), then take the exit for Farrington Highway (Highway 930), which will be headed West. Soon Dillingham Airfield will be visible on the left. As the vegetation on the right ends, Mokuleia Beach Park will become visible. These beaches were the locations for principal shooting of Season 1 and the mountain profile is recognizable in "Pilot, Part 1". Farther west down the road are the beaches filmed for the tail section's crash site.
The Lost Set
Mokule'ia was the site of the Oceanic Flight 815 plane crash in "Pilot, Part 1". The beach is near the end of the pavemented road, as the beach extends down to Kaena Point, which is the westernmost tip of the Island of Oahu. During the Pilot episodes and until they left Mokule'ia, the set was kept there 24/7. The road would be covered in beach sand to extend the set back as far as possible. During filming, no traffic was allowed on the road but released between takes. This gave bystanders a chance to see the set.
Mokule'ia beach was used for half of the first Season until the nearing of the winter months, although a slightly different part of the beach was used to depict the wreckage for episodes after the pilot. During the winter months, the tides around Mokule'ia and the north shore become huge. This created the threat of high tides and ever encroaching waters on the Fuselage. The cast and crew were forced to relocate to the new beach site at Papa'iloa near Haleiwa for fear that the set would be swept into the ocean, just as depicted in the show. ("Whatever the Case May Be")
Filming Locations
Four areas of Mokule'ia beach were used in the show: Army Beach, Tiger Point, YMCA Camp Erdman, and the beach near Camp Erdman. The beach is seen in:
Trivia
Many times the police department received calls from panicking citizens about "a terrible plane crash" at Mokule'ia. After dozens of "plane crash sightings" were reported, a sign was erected to indicate the crash was in fact a filming set. (Source: Season 1 DVD special features)
External links
Lost Virtual Tour:
Google Maps with the four areas hilighted: