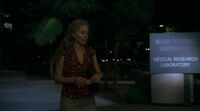 This was the Miami-based research laboratory, run by Dr. Edmund Burke, where Juliet worked until he was run over by a bus in "Not in Portland". It is also where Edmund's lover Sherry worked as a research assistant.
Juliet had a restricted access card that allowed entry into "RESEARCH LAB A-4" in the facility. The Bio-research building was at Security Level 5.
The laboratory produced the drug labeled "TEST SAMPLE A4993-E3" that Juliet was administering to her sister.
Trivia
There is no real life school called the Miami Central University.
The scenes were filmed at the John A. Burns School of Medicine, at the University of Hawaii at Manoa.