Marjorie Mariano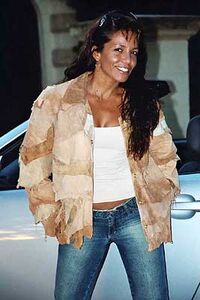 Marjorie Mariano

Marjorie Mariano is a member of the Flight 815 survivor background cast of Lost; she plays an unnamed redshirt. But according to the original script, she had a single line, and her character was named Beth.
Background
She is 41 year old.
She is a Brazilian actress & Portuguese speaker
She has worked on Godzilla, Bay Watch, The Big Bounce, 50 First Dates, My wife and Kids, The Break, Hawaii, North Shore and Rundown
Has lived in Hawaii since 1992
She used to own advertising agency in Florida, however because of 9/11 the company had to close
She has bodyboards & is a surfing instructor.
She's a model.
See also
External links
[1] - "Lost Girl" Portuguese Interview
Community content is available under
CC BY-NC-ND
unless otherwise noted.