Real World article
(written from a Production point of view)

Maggie Grace played the role of Shannon Rutherford.
Biography
Maggie Grace was born Margaret Grace Denig in Worthington, Ohio. Maggie has two younger siblings, Marisa and Ian.
Grace was first seen in an online weekly video (or webisode) called Rachel's Room (2001–2002), in which she portrayed a teen in her room expressing teen angst and talking about a conflict between her and mother and teachers. It was shown on ScreenBlast, a site owned and operated by Sony Pictures.
Maggie starred in her first film in 2002 with Murder in Greenwich (2002) and then Shop Club (2002). In 2003, at the age of 20, she played an estranged daughter of Wendy Crewson and Tom Selleck in the drama Twelve Mile Road (2003).
Grace's career breakthrough came one year later with Lost, playing Shannon, one of the main characters of a serial drama with an ensemble cast. She was officially credited as part of the main cast from the "Pilot, Part 1" episode through the second season's 7th episode, "The Other 48 Days". In her subsequent appearance in the 8th episode, "Collision", she was billed as "Special Guest Star", and after her character's death, she appeared on Lost in "Exposé". In "The End", she returned to Lost as a main character.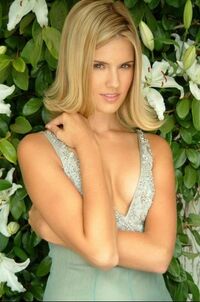 Since leaving Lost, she starred in a recent 2005 remake of an old horror film, The Fog, in a starring role opposite Tom Welling. In 2007, Maggie filmed Suburban Girl and Taken which was just released in the U.S. [1]
Rumors
In the fall of 2005, she was rumored to be dating Ian Somerhalder, who played her step-brother Boone on Lost.[2]
After Lost, Grace was falsely rumored to appear in X-Men 3 as Kitty Pryde (Shadowcat) in [3]; Elliot Page was cast for this role.
According to Holymoly.co.uk, Grace was to appear on the television series Scrubs, but had personal differences with cast member Zach Braff and quit, although Grace has not commented on this rumor.
Trivia
Filmography
Feature films
Television
Webisodes
Awards
Media appearances
Talk show
Grace has appeared as a talk show guest in the following:
Magazine
Grace has been featured as the main topic of the following magazine articles:
Miscellaneous
Upcoming
TBA
External links
Fan pages
The following websites are dedicated to Maggie Grace:
Miscellaneous