"Love Island" is the tenth issue of the first volume of Lost: The Official Magazine. It was released in April 2007, before the Season 3 finale.
Contents
Namaste
Relive the flooding of the Hydra and take a look at the Production Design department's concept art.
Flashback
"Inman of Mystery"
We look at Kelvin Inman's first appearance as part of Sayid's flashback to the first Gulf War...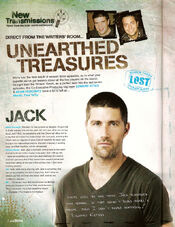 Dark Territory
"Map of the Problematique"
Remember what Locke saw on the blast door in season two? Now you can study all of the map's details as much as you like. Display it on your wall, and see what you can uncover...
Beyond The Hatch
"From Cage to Screen"
Exclusive behind-the-scenes photography of the Pearl, the Hydra's cage are and it's operating room await you...
Frequent Flyers
New Transmissions
Lost Co-Executive Producers Edward Kitsis and Adam Horowitz are here with more Season 3 news to tease and tantalize. Edward and Adam analyze and discuss the main characters of Season 3, including Jack, Kate, Sawyer, Desmond, Ben, and Juliet.
Voices from the Fuselage
The fans... the theories... the views... the debates... Lost viewers get their chance to have their say...
Get Lost
Take an exclusive tour of McFarlane Toys' offices to take a closer look at the new set being produced right now...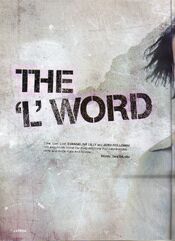 Dear Diary
Head of Make-up Steve LaPorte gives an insight into working on Hawaii for Lost...
Damon Lindelof's Pearls of Wisdom
Eight fan questions have been passed to Co-Creator/Executive Producer Damon Lindelof...
Black Box Flight Recorder
Even though his time on the Island was brief, he certainly went out with a bang. Ladies and gentlemen, Dr. Leslie Arzt...
Exodus
When the next issue arrives, this season's cliffhanger will have aired, which means you'll be wanting some season four news...
The Others
"Make-up Master"
Steve LaPorte - From the gory victims of the smoke monster's attack, to covering up tattoos, this man is in charge of it all...
"Music Man"
Michael Giacchino is the man behind Lost's enigmatic and spectacular music. Lost's score continues to heighten the show's emotional punches and eerie environment...
"Post Man"
Ra'uf Glasgow - Handling the pressures of post-production is Ra'uf Glasgow. Find out all about his role...
By The Fire
"Time Will Tell"
Henry Ian Cusick takes time out from playing Lost's enigma, Desmond, to talk about that episode...
"The 'L' Word"
After being trapped together, they fled together, then got separated once more. The actors behind Kate and Sawyer talk exclusively about their characters' connection...


Community content is available under
CC BY-NC-ND
unless otherwise noted.