Page Protection Note
NOTE: - The project page is protected. If you see a mistake, or would like to add to the page, please comment here and notify a sysop if necessary.


Straw Poll
Please sign your name using four tildes (~~~~) under the position you support, and please add a (hopefully brief and well thought out) comment. If you are happy with more than one possibility, you may wish to sign your names to more than one place. Extended commentary should be placed below, in the section marked "Discussion", though brief commentary can be interspersed.
Implement retroactive renumbering
and renaming of the episodes as they will be known in syndication and on the DVD releases
Status Quo
Keep episode names and numberings as originally given in the official press releases and as they originally aired
- Numbering system worked fine so far, and users got used to it. Not worth the effort.--Messenger 19:04, 21 April 2009 (UTC)
Combination Approach
Keep episode names and numberings, but add alternative "production hours" labels to episode articles
Discussion
: Plkrtn mentioned keeping the wiki in accordance with the original intentions of Darlton, as they aired originally. However, this is exactly what the change will do, as the 100th episode is being billed as such. It's not just the 100th production hour, but the 100th episode, which means our count is wrong. (Jorge's blog Chicago Tribune osh24seven.com interviews Darlton podcast where Damon says "hundredth episode") ---- LOSTonthisdarnisland 19:03, 21 April 2009 (UTC)

On the Portuguese Lostpedia we just say "'There's No Place Like Home: Part 2' is the 13rd and 14th episode of the fourth season and the 85th and 86th of Lost". It's much more easier than split the articles and don't cause problems about separating the guest stars. -- Lucas Benicá | Talk | Email | 23:40, 25 April 2009 (UTC)
"Combination approach" is actually status quo
I have to point out that, as explained on the issue page, the intent of this straw poll was to decide on the essential definition of "episodes": are episodes single hours of programming, or are episodes shows as originally broadcast in the U.S.? As such, a vote for the "combination approach" is actually one and the same as a vote for the "status quo". There's nothing in the second or "status quo" position that says we can't add another infobox item for "number of hours of programming"--and that is really a separate sub-issue. The way this poll was originally set up, there were two and only two options. I apologize if there's any confusion over the meaning of the issues, and the consequences of each. I think it would be best if the third option were eliminated or melded into the second option, and editors were given the chance to adjust their votes accordingly.  Robert K S   tell me  22:48, 20 April 2009 (UTC)
I agree. The essential issue is whether or not the finale articles should get split up, based on the definition of "episode". The poll as it stands now is unnecessarily splitting the "status quo" position. --

 Graft 

 

 talk 

 

 contributions 

23:38, 20 April 2009 (UTC)
That's fine with me. I'll change my vote to status quo. My whole point is that I don't think we need to split the finales up. Just clarify that one article is actually 2 or 3 episodes. Then the episode number will be correct and no crazy edits. :) Brotha305 00:06, 21 April 2009 (UTC)
"Combination approach" is not actually status quo
I could agree with that except for the fact that only the recent episodes are noting the "production hour" for the episode. It's not noted consistently in the earlier episode articles, and certainly not a statistic in the infobox. Status quo option, in my opinion, would be to leave things how they are and essentially ignore the press release information.    Jabberwock    talk    contribs    email   - 04:57, 21 April 2009 (UTC)
It's not noted consistently in earlier articles because I stopped putting it in (I had been working backwards through them) to wait for the outcome of this process. Don't confuse the meaning of "status quo". What we are trying to decide here is whether we break up episode articles or not.  

Robert K S

   

tell me

  05:05, 21 April 2009 (UTC)

I have to respectfully disagree with your statements above Robert. We don't currently have a policy on this issue. It's not in the style guide. It's not tracked in earlier episodes. It's not in the infobox. Just because it's in a few of the more recent episodes, doesn't mean that it's the status quo. Whether or not the finale episodes get broken up is just part of the issue.  

  Jabberwock  

  talk  

  contribs  

  email  

- 14:30, 21 April 2009 (UTC)

Your argument is reliant only on the language "status quo" rather than looking the intended choices of the poll (split articles or don't), as I describe above. The way I originally set up the vote, "status quo" wasn't language found in the two choices. Graft gets it; I don't see why there should be confusion.  

Robert K S

   

tell me

  05:16, 26 April 2009 (UTC)

Yes, but there are more than two options. You could list production numbering without actually splitting the episodes. Status quo would be to make no changes at all.  

  Jabberwock  

  talk  

  contribs  

  email  

- 15:06, 29 April 2009 (UTC)
: I notice that a lot of people are voting against the change for the reason that it would be too difficult to fix crossrefs and ep templates. I personally do not think this is a valid enough reason to not split the finale articles -- with the combined effort of the users here, we could definitely fix the ep/crossref templates and redirect them to the correct finales. Since ABC is official stating (via press releases and promos) that "

The Variable

" wll be the 100th Episode, we need to fix the problem now, rather than do nothing just because it would take a lot of work. --

 CTS

 Talk 

  Contribs

01:57, 21 April 2009 (UTC)
I agree that "too hard" is not a valid reason to avoid changes. We have a good community here that could could get it done. That being said, we shouldn't disregard the obstacles.  

  Jabberwock  

  talk  

  contribs  

  email  

- 04:57, 21 April 2009 (UTC)
If that were the case I would put mine on status quo as Ive stated before all I want is recogniton of the seperate hours and appropriate casting for each hour ex charlotte in hr 1 of 2 in TNPLH part 2 --Czygan84 03:22, 21 April 2009 (UTC)
*: I think we should just do what's done on the official DVDs. But we could still give sub-headings of production hours onto 2-hour episodes.
There should be an open period of suggesting options first, not voting on these limited options
I don't think any of these options are optimal. We should absolutely NOT rename episodes. For 2-hour episodes, the production number should expanded such as 1x24-1x25 or 1x24-25 for Exodus, Part 2. This is how I have seen it done for other series 2-hour episodes. The overall episode hour is appropriate to be included. Namastizzay 05:09, 22 April 2009 (UTC)
Example of Crazy Numbering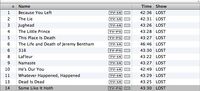 This is why we should number the episodes ourselves. A screencap from iTunes. Jack Dutton 04:50, 23 April 2009 (UTC)
What is the craziness to which you are referring? --Jackdavinci 16:01, 23 April 2009 (UTC)
Took me a while but I see it. 7 and 12 are missing and 6 is on there twice.Brotha305 16:21, 23 April 2009 (UTC)
This trail is not un-blazed!
The Star Trek universe has seen a similar treatment of episodes with regards to an episode being longer than an hour, with 1, 2, 3, 4, 5, 6, 7, 8, 9 examples across 4 incarnations (The syndicated TNG & DS9, and the for-UPN Voyager & Enterprise). Memory Alpha, a fellow Wikia devoted to Star Trek, Took the combination approach, numbering 2 hour episodes like All Good Things (The TNG Finale) as "7x25/26" on their episode table here, yet numbering it 7x25 on the article proper. I think the combination approach would serve us just as well as it serves them. --  SacValleyDweller    talk    contribs   06:26, 23 April 2009 (UTC)
The Latest Podcast
On the latest podcast, Kris White calls the next episode the "100th hour" not the "100th episode". Carlton and Damon call it both 100th episode and 100th hour. -- Plkrtn  talk  contribs  email  10:12, 24 April 2009 (UTC)
Tally as of 2009-04-26T00:36:03
Split: 32
Status quo: 8, Combination approach: 36
Notes:
Jaberwock and Jackdavinci voted contradictorily for both split and combination approach, so that's -2 for both positions.
Bettyfizzw voted for status quo and combination approach, so that's -1 for status quo/combination approach.
For one editor (Matanelim), this vote was his or her only contribution to Lostpedia.
Tally: 24 to 27+8=35 (or 26+8=34 if we discount Metanelim's vote). I expected the input to be a lot larger, but we seem to have the opinions of most of the heavily involved editors already on the record.  Robert K S   tell me  06:01, 26 April 2009 (UTC)
I was confused about what 'combination approach' meant for the purpose of the vote, my comments there should have gone in the discussion section. Put me down for "Split" --Jackdavinci 10:33, 27 April 2009 (UTC)
Not a Vote!
"

In determining consensus, consider the strength and quality of the arguments, including the evolution of final positions, the objections of those who disagree, and existing documentation in the project namespace if available. Minority opinions typically reflect genuine concerns, and their (strict) logic may outweigh the "logic" (point of view) of the majority. New users who are not yet familiar with consensus should realize that polls (if held) are often more likely to be the start of a discussion rather than the end of one. Editors decide outcomes during discussion.

Polls are structured discussions, not votes. Opinion has more weight when you provide a rationale during a poll, not just a vote. Convince others of your views, and give them a chance to convince you. Pure argumentativeness rarely convinces others.

"

Please keep in mind that this informal poll is not a vote. We are trying to gather community opinions and hosting discussion to reach consensus. For the most part, we follow the Wikipedia model on this.    Jabberwock    talk    contribs    email   - 15:19, 28 April 2009 (UTC)
So what conclusions should be drawn from the above, and what methodology is used to draw those conclusions?  

Robert K S

   

tell me

  15:17, 5 May 2009 (UTC)
Getting left out
After looking at a majority of the votes I feel like a large group of supporters are getting left out of the vote and that is people who want the articles to remain as one but want a rename (ex: Exodus Parts 2 & 3). This is for sure the side I am on and I feel like it would get some support however since it really isnt an option no one will vote for it as is. Any thoughts, maybee im crazy  B1G CZYGS  Talk  Contribs  23:57, 3 May 2009 (UTC)
Do you mean you want to combine all multipart episodes into single articles? If so I could go for that. I think either splitting up all episodes, or combining all multipart episodes both make sense. The only thing that doesn't make any sense is splitting the first part of the episode off but combining the last two. There's nothing special about the way episodes were aired that needs to be preserved beyond a brief mention. Certainly there's absolutely no justification for structuring the site around the way the episodes aired. If we did that then we'd have to combine the first two episodes of this year since they aired the same night. The way they air has nothing to do with the creative intent of the show at all. It's completely up to the network how they choose to air them. If anything, creative intent would suggest that all parts of multipart episodes should be together. --Jackdavinci 20:21, 4 May 2009 (UTC)

No, we would not, because the two premere eps of season 5 were properly packaged with titecard and credits, giving ABC the leeway to air them separate or together as they saw fit. Now, you say that it's all up to the network how they air the Eps? Not so fast. If I recall correctly, it was Carlton and Cuse's call to air 316 before The Life and Death of Jeremy Bentham (they were produced in the opposite order). --

  SacValleyDweller  

  talk  

  contribs  

06:26, 7 May 2009 (UTC)

The multipart episode got credits and title cards when they aired in syndication, so that's a non issue. And switching the order of episodes is not in any way comparable to what dates and times the episodes air. The beginning of the season is pretty much proof of that - the network wanted to start with two hours of Lost, but C&C did not make a two part episode. Further proven by that the three part finale did not all air on one night. --Jackdavinci 09:04, 7 May 2009 (UTC)
We dont need to re-invent the wheel
I may not have been around this site or Lost too long, but I think it's a waste of energy to re-invent the wheel with regards to this Ep numbering. The system is not broken, so it doesn't need to be fixed. Those that call the system "broken" because The Variable, marketed by ABC as the 100th episode, isn't the 100th episode per our numbering are (in my opinion) loosing sight of this site's objective (or at least what I perceive it to be) which is to provide a snapshot of the phenomenon that is Lost as it happened. --  SacValleyDweller    talk    contribs   06:40, 7 May 2009 (UTC)