Feel free to add links to news items related to LOST in this page. Please use the following format:
'''Title in Bold'''
[[Image:Example.jpg|100px|left|Description]]
Less than one paragraph description.
[http://Link to the item Read more]
Please avoid linking to password protected sites such as the New York Times.
---
Jorge Garcia talks Lost and more
Dutch Lost, a fan site, interviewed Jorge Garcia. Jorge gave some interesting answers. He tells the fan site the most famous person on his mobile phone is J.J. Abrams, he talks about his dog, his dreams and his favorite band. But also, of course, he talks a lot about Lost. Read more
---

Elizabeth Mitchell cast in new ABC pilot
Elizabeth Mitchell, who plays Juliet Burke on the popular series Lost, has been cast in the ABC pilot for V, its remake of the classic science fiction television miniseries, according to an Entertainment Weekly report.. The rest of the article, including Mitchell's speculation of Juliet can be found at [1]
---

LOST Seasons 1 and 2 confirmed for Blu-Ray on June 16th
Pre-orders available now on amazon.com
http://www.amazon.com/exec/obidos/ASIN/B00139YA4O/ref=nosim/dvdtalk http://www.amazon.com/exec/obidos/ASIN/B001AQMBKA/ref=nosim/dvdtalk
---

LOST to skip a week
Following the premiere of episode 5:08 on March 4th, 2009, LOST will take a one week break, and return with a new episode on 3/18/2009. Episode 5:08 will be rebroadcast on 3/11/2009. [2] SPOILERS AFTER LINK

Catching Up with Michael Emerson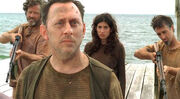 The man behind Ben Linus talks to washingtonpost.com about his character's motivation and shares some juicy tidbits about the upcoming season -- including details about an upcoming Ben-Locke showdown, that four-toed statue and whether or not Richard Alpert is wearing eyeliner. Read more
---
Lost Time Travel: Time is a two-by-four... The Rules have now been mentioned on LOST enough in the first 3 episodes of season 5 for it to be obvious that the producers really want us to understand what this means. However, the very nature of time travel is rarely easy to understand and with the words 'time loop' and 'paradox' popping up in discussion forums across the web, its time for for a LOST Time Travel 101 class. We'll start with the analogy of...'Lost is like a two-by-four...' Read more
---
Preorder the fifth season on blu-ray and DVD
Amazon made the DVD and blu-ray of Season 5 available for pre-order Read more
---
LOST "The Complete Seasons 1 & 2" to arrive on Blu-Ray in 2009
Walt Disney Studios Home Entertainment has released their Blu-Ray Disc line-up for 2009, and has listed "Lost: The Complete First and Second Seasons" as one of the new catalog releases. The first two seasons were not yet available in the high-definition format. Seasons 3 and 4 were released on blu-ray, however. Read more
---
OUR PRAYERS HAVE BEEN ANSWERED - LOST Series Premiere Set for Wednesday, January 21, 2009 - Be There, Or Be Somewhere Else!!!
http://news.yahoo.com/s/eonline/20081108/en_tv_eo/67838
Lost Gets a Premiere Date!
Los Angeles – Our prayers have been answered! ABC has just confirmed that Lost has received an official premiere date for season five, and even better, it's a smidgen earlier than expected. On Wednesday, Jan. 21, Lost returns with a three-hour (you heard me, three-hour!) premiere. "Because You Left" and "The Lie" will air back-to-back, following a recap of the first four seasons (for the very few people who aren't already addicted and/or obsessed). So what does this mean for ABC's Wednesday-night lineup? After the Lost extravaganza premiere, the series will continue on Wednesday nights at 9. Reps at ABC have told me that a decision on new time slots for Private Practice and possibly Pushing Daisies (pleeease?) will be announced next week. Episodes three through six are as follows: "Jughead," "The Little Prince," "The Place Is Death" and "The Life and Death of Jeremy Bentham." This news comes on the heels of the casting scoop from earlier today about the part of a Lost man's lover.
---
I know you usually do the news articles on the main page and blog and wondered if you heard about Jack Bender's new project. ABC has him directing the pilot of a new show called "The Prince of Motor City". It's not filming in HI, and I haven't seen anything about how this may affect his role with Lost, but I wanted to pass on the article. [3] --Gluphokquen Gunih ▲ 17:16, 23 May 2008 (PDT)
De Ravin to appear in Mann's "Public Enemies"
"Lost" star Emilie de Ravin has joined the cast of Michael Mann's "Public Enemies."
The Australian actress, who plays Claire in the ABC drama, will play a supporting role opposite Johnny Depp and Christian Bale in the movie, reports Variety. [4] TheBookPolice 08:57, 28 April 2008 (PDT)

14th Hour? TV Guide's Michael Ausiello reporting on a possible 14th hour being added to the current season. Read more IGN's story Jenolen 16:46, 9 April 2008 (PDT)
I added a IGN link. Someone needs to put this on the main page! dposse 18:06, 9 April 2008 (PDT)

Are Lost's New Time-Travel Physics Junk Science? Maybe Not, Expert Says: Hollywood Sci-Fi vs. Reality

With new particle physics research recently taking time travel from Doc Brown fantasy to down-the-line possibility, we spoke with Dr. Michio Kaku, whose new book, "Physics of the Impossible," makes Lost's flip-flop between past and present look, well, not impossible. [5]
--Haohmaru 03:52, 3 March 2008 (EST)




Interesting interview to Cuse and Lindelof at ew.com
[6]
--Shitoby 08:17, 21 February 2008 (PST)
The first trailer of season 4
In web may watch the first trailer of season .
[7]
Gelu
Stage set for Cuse

The goal for Carlton Cuse and co-showrunner Damon Lindelof is to produce five more episodes this season, a tall order given the time constraints and the scope of storytelling and production on "Lost." Even with five additional hours, Cuse and Lindelof will be three episodes short of the premapped fourth season.
Read more
TheAma1 11:18, 12 February 2008 (PST)
February 23, 2007
Virgin TV loses Sky One in England
by Simon Lambert, thisismoney
United Kingdom cable customers have been left without a string of hit TV shows after Virgin Media, formerly NTL:Telewest, said that Sky One will be pulled from their screens. The 'newly-rebranded cable firm said BSkyB had forced its hand in negotiations and the basic Sky One, Two, Three, News and Sports News channels were likely to stop being part of its package, as early as next week. Read more...
February 25, 2007
Virgin fuels Sky row with Lost coup
by James Robinson, The Observer
Virgin Media will fire another salvo in its bitter battle with rival pay-TV group BSkyB tomorrow when it unveils a deal to screen episodes of Lost, the hit US show, on its video-on-demand channel. Virgin has secured a deal with Lost producer ABC to buy all three series of the show, which is currently airing exclusively on Sky One. Read More...
February 28, 2007
LOST Fans UNITE!
by Jason Carubia
In an event anticipated to attract more theories than an electromagnetic hatch imploding, LOST fans will gather for a weekend of fan-dom, fun, and fundraising. Read more...
March 06, 2007
Matthew Fox Announced as Columbia University Class Day Speaker
Actor Matthew Fox, CC '89, will speak at this May's Columbia College class day, Columbia College Dean Austin Quigley announced today. [8]
March 12, 2007
Josh Holloway on the "Lost Curse
by Kris De Leon, BuddyTV
Lost actor Josh Holloway, who plays James "Sawyer" Ford on the Emmy award-winning show, expresses his sentiments on the "Lost curse" months after receiving a speeding ticket in Hawaii last September. In addition, the actor attempts to explore the hives of police activity surrounding other cast members of the ABC hit show. Read More...
April 5, 2007
Lindelof discusses shock 'Lost' storyline
by Neil Wilkes, Digital Spy
Lost exec Damon Lindelof has explained the shock decision to kill off two characters in last week's episode of the series.
In the episode, Paolo (Rodrigo Santoro, pictured) and Nikki (Kiele Sanchez) are accidentally buried alive by their fellow castaways after being poisoned by venomous spiders. Read More...
April 7, 2007
'Lost' fans look for clues
by Thomas Garrett, The Baxter Bulletin
It's amazing how seriously some viewers get into their favorite television shows. Take fans of "Lost."
In Wednesday night's episode of the hit ABC series, one scene involved a trap using a gas canister. A close-up of the canister shows its manufacturer's logo and name, ALS Technologies, and if you look really, really closely there's a Web address. Read More...
May 4, 2007
Major Changes Ahead for Lost
by Kristin Veitch, E! Online
The network and producers have reached a decision on an end date and they are expected to announce it very soon. This is meant to be a good thing, because now the producers finally can start mapping out the remaining episodes and rolling out some of the major reveals and answers we fans have been waiting for. Read More...
May 6, 2007
One mystery solved: 'Lost' to end in 2010
by Gary Levin, USA TODAY
The end is in sight for ABC's acclaimed island mystery Lost, but fans will have to wait until 2010 for all the answers. In a highly unusual move, the network announces plans today to end the show after three more shortened seasons of 16 episodes each. The episodes will air consecutively, repeat-free, from February to May. Read More...
May 25, 2007
Early third season DVD design revealed
by David Lambert, TVshowsonDVD.com
An early version of the cover art for the season three DVD box set has been revealed. It is rumored to be titled "Lost - The Complete Third Season: The Unexplored Experience." This is still unconfirmed as of yet, though the studio is expected to release confirmation on May 31. Read More...
May 31, 2007
Disney Says No to Lost on BD
Disney has stated that Lost is not planned for a release on Blu-ray Disc. Read more
June 5, 2007
Press Release and Large Package Art for 3rd Season DVDs
by David Lambert, TVshowsonDVD.com
The studio's press release for "Lost - The Complete 3rd Season: The Unexplored Experience" has been posted, confirming the release date of December 11th, and giving details about DVD extras. Read More... The full-sized package art has been revealed as well. Read More...
June 10, 2007
LOST Nominated for TCA Award
LOST has been nominated for a TCA (Television Critics Association) award for "Outstanding Achievement in Drama." Read More
June 14, 2007
"Lost" won't end "Sopranos"-style
Carlton Cuse and Damon Lindelof ensure viewers that there will be a definitive ending to the LOST storyline and they announce short "mobisodes" to keep viewers' interest up during the long inter-season hiatus. Read More
July 10, 2007
"Lost" star goes French this summer
by Brendan Kelly, CanWest News Service, Canada.com
Evangeline Lilly is working on a film with lots of French flavour and she couldn't be happier. Lilly is currently in Montreal shooting the indie flick Afterwards, a suspense outing that also stars John Malkovich and French leading man Romain Duris. Read More...
July 16, 2007
Lindelof about Lost Finale..?
I Watch TV
An article about how to interpret what Lindelof said on how Harry Potter should end, but on Lost: how surprise is a major part of it, and daring to do what people belief never could happen. Also how evil could win over good! Read More...
July 18, 2007
Is Alpert out?
I Watch TV
Nestor Carbonell, who plays Richard Alpert, is now on a new show on CBS. But apparently that means he won't be able to come back for Lost, because when asked is she would let him appear on Lost, CBS president said no. Not to be mean, but to make sure it doesn't "confuse the audience", of course.... Read More...
August 2, 2007
Supposed Season 4 Characters
Details on two new recurring Lost characters have leaked out onto the internet sending news starved fans into a tizzy of speculation. The first real news about what sort of people may possibly be on the approaching freighter, or a different group of people are together, are outlined, but Lost fans would do well to remember that last year Lost's clever creative staff used bogus character information to send fans in the wrong direction.
Disney Confirms 'Lost: Season 3' Blu-ray Disc Release
Disney has now confirmed that Season 3 will be released on Blu-ray Disc. Read more
(The correct name is "Blu-ray Disc", not "Blu-ray", and the abbreviation is "BD")
September 4, 2007
New Cast Members Announced! Carlton Cuse and Damon Lindelof have announced that there will be five new cast members during season 4 of Lost. The show has just started filming the new season when word of the new members was announced. Joining the outstanding cast will be: Jeff Fahey (The Lawnmower Man and The Grindhouse) ,Jeremy Davies (Saving Private Ryan), Lance Reddick (The Wire), Ken Leung (The Sopranos) and British actress Rebecca Mader (The Devil Wears Prada, Love Monkey). Read more
September 13, 2007
Experience the "Lost" Symphony Experience the epic musical score of the hit ABC television series "Lost" as award-winning American composer Michael Giacchino brings this original music to Honolulu for its symphony orchestra world premiere by the Honolulu Symphony Toyota Pops and conductor Tim Simonec on Saturday, September 22 at 7:30 p.m. at the Waikiki Shell. Read more
Will 'Lost' Make Monday the Best Night on TV? Lost remains in "radio silence," but that does not mean that the rumor mill has slowed down. The latest, and perhaps most provocative rumor to surface concerning ABC's island mystery is that a time slot has finely been eyeballed for the show. Fans famously kvetched about the later 10pm est slot Lost took during the final leg of its third season. Ever the fan pleasers, ABC's execs and Lost creators alike have given subtle hints to addressing the concerns of the disgruntled masses. If this latest rumble proves true, it could lead to the creation of a television "super night." read more
October 25, 2007
Lost' star Daniel Dae Kim arrested HONOLULU - It's trouble in paradise for another "Lost" star. Daniel Dae Kim, who plays Jin-Soo Kwon on the hit ABC series, was arrested early Thursday on suspicion of drunken driving, reports The Honolulu Advertiser. Read more
8 November 2007
Lost stars break up By Blue eagle islander Dominic Monaghan and Evangeline Lilly have split up, according to various sources. The couple were expected to wed, but the relationship seems to be over. Dominic was sighted at a Los Angeles restaurant crying in the arms of another woman. Apparently the two were sharing an intimate moment, kissing and cuddling. Lilly and Monaghan has not been sighted together for sometime.
November 11, 2007
"Mourning TV" - Lindelof reflects on the writers' strike Lost executive producer and co-creator Damon Lindelof wrote an op-ed piece in the New York Times entitled "Mourning TV," reflecting on the writers' strike and the sad truth, according to him, that "Television is dying."
Lindelof writes, "I will probably be dragged through the streets and burned in effigy if fans have to wait another year for "Lost" to come back. And who could blame them? Public sentiment may have swung toward the guild for now, but once the viewing audience has spent a month or so subsisting on "America's Next Hottest Cop" and "Celebrity Eating Contest," I have little doubt that the tide will turn against us. Which brings me to the second stage of grief: anger.
"I am angry because I am accused of being greedy by studios that are being greedy. I am angry because my greed is fair and reasonable: if money is made off of my product through the Internet, then I am entitled to a small piece. The studios' greed, on the other hand, is hidden behind cynical, disingenuous claims that they make nothing on the Web — that the streaming and downloading of our shows is purely "promotional." Seriously?" Read more
November 13, 2007
Hiatuses for serialized shows a 'Lost' cause ABC just decided that broadcasting a few episodes of "Lost's" upcoming fourth season is better than no "Lost" at all. But as anyone who sat through last season's excruciating first six episodes knows, that's just not true.
"Lost" has completed only eight episodes of its new season, and the network is refusing to follow FOX's example and hold off on airing the first set of episodes. It's the wrong move. "Lost" can't afford to lose any more momentum. But it's wrong for another reason: "Lost" showrunner Damon Lindelof says those first episodes aren't any good.
Interviewed on the picket lines, he told E! Online that he thinks the show will follow a similar course as last year: "When you are doing 24 straight episodes of a show, the first six episodes are a lot of tap dancing and some writers are able to tap-dance very effectively. Cable writers don't have to tap-dance at all, which is why all their shows are so great." Read more
November 18, 2007
Talks to begin on November 26th
The Writers Guild of America and the Alliance of Motion Picture and Television Producers said late Friday that they would resume talks Nov. 26 on a new contract for 10,500 writers to replace the one that expired Oct. 31. The two sides announced the plan in identical statements, a rare show of unity.
December 17, 2007
WGA seeks to bypass AMPTP The Writers Guild of America is seeking to bypass the AMPTP with the aim of reaching agreements with individual producers. Read more
January 6, 2008
Lost episodes to be distributed via Xbox Live
Under an agreement with Disney-ABC Television Group, later this month, all U.S. Xbox LIVE members will begin to have access to select TV shows and movies from the ABC Television Network, ABC Family, ABC News, Disney Channel and Toon Disney. More than 500 hours of content, in both standard definition and high definition when available, will be offered, including hit ABC Television shows Lost, Grey's Anatomy, Ugly Betty, and Desperate Housewives. Past and current ABC shows will be available on demand, with new episodes arriving on the service the day after they air on television. Read more
January 23, 2008
Discover Lost in Marvel Comics
Now fans can discover elements from the hit series "Lost" in Marvel Comics. ABC marketing has strategically placed images and references from the show in various comic books, including Uncanny X-Men, Incredible Hercules, Thunderbolts and Wolverine Origins on sale now. Read more
February 3rd 2008
Lost filming again?
Reports are coming in that Lost has started filming again. Does this mean the strike has been secretly ended? Read more
February 13 2008
Daniel Dae Kim gets Lost in translation
He stars on Channel 7's hit drama, Lost, but Daniel Dae Kim did a great impression of Bill Murray during a Lost In Translation-style moment on Australian The Morning Show yesterday. After sampling local delights like Vegemite and lamingtons, Kim tried out his own knowledge of the lingo, telling Larry Emdur and Kylie Gillies about the only Aussie phrase he knew: "having your poo in the one sock." The bizarre saying clearly shocked his hosts, with Emdur breaking it to Kim that his source had perhaps taken another toilet reference out of him by setting him up to say it on national TV. Read more
February 20 2008
'Lost" Moves to New Time - Thursday Nights at 10:00 p.m. - Beginning April 24'
"Lost" will move to its new 10:00 p.m. time period on Thursday, April 24, with five weeks of original episodes. Media Release
April 10 2008
Lost might find an extra hour
TV Guide scribe Michael Ausiello has reported that Lost execs are in discussion with ABC to add an additional hour to the current season. It's unclear whether this would be an extra episode to the shortened 13 episode season or a two-hour finale.[9]
April 14 2008
ABC ANNOUNCES SPECIAL TWO-HOUR FINALES OF "GREY'S ANATOMY" AND "LOST"
ABC Entertainment announces special two-hour finales of "Grey's Anatomy" and "Lost." The "Grey's Anatomy" finale airs Thursday, May 22 (9:00-11:00 p.m., ET), and the "Lost" finale airs Thursday, May 29 (9:00-11:00 p.m., ET) on the ABC Television Network. This marks an additional hour for each show this season, for a total of 17 hours for "Grey's Anatomy" and 14 hours for "Lost." (*Editor's note: "Lost" will be pre-empted on May 22 due to the "Grey's Anatomy" finale.)[10]
April 14 2008
'Lost': Secrets from the Set!
"Dangers! Strangers! Game changers! The Island inhabitants are in for a rough ride. Here's everything you need to know about season 4's final five episodes." Also, exclusive video interviews with cast members after "Meet Kevin Johnson". [11]
April 18 2008
Lost' producers reveal island secrets
"Lost" executive producers Damon Lindelof and Carlton Cuse chatted with reporters Thursday about the return of the island drama to ABC's line-up on April 24. Four episodes will air consecutively at 10 p.m. on Thursdays, with an interruption on May 22 (for the "Grey's Anatomy" two-hour finale). Then the fourth season of "Lost" will wind down on May 29 with a two-hour episode. (Warning: Spoilers) [12]
April 24 2008
Get LOST in these reader-submitted theories
USA TODAY recently submitted their theories on Lost. Now Lost's executive producers Carlton Cuse and Damon Lindelof share their thoughts on a small sampling of those submissions - not including a couple the producers declined to comment on, because they are "too close" to the "real" story. Read More
May 15 2008
Off the island with Lost's Hurley
Jorge Garcia answers a few questions about the season 4 finale (no spoilers). Garcia also tells us how he scoops around the studio to find out more about the show. Read more
June 4 2008
Although the competition was slim, the season finale of LOST was the number 1 rated television show for the week of May 26-June 1. It gained 12.3 million viewers according to Nielsen Media Research. [13] dposse 06:46, 4 June 2008 (PDT)

July 18 2008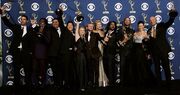 2008 Emmy Nominations: Lost up for Outstanding Drama Series
By Blue eagle islander
The 2008 Emmy nominations are out, with Lost nominated for eight awards, including Outstanding Drama Series and Outstanding Supporting Actor in a Drama Series (Michael Emerson). Lost has not been nominated for the Outstanding Drama Series since 2005, where it won the award. The award winners will be announced September 21.
August 19 2008
Don't miss this video interview with Damon Lindelof [[14]] about The Book of Lies. Is it real?
--Miriamparker 08:53, 19 August 2008 (PDT)
April 14 2009
'Lost' star Holloway becomes a father
By Digital Spy Lost star Josh Holloway has become a father for the first time. The actor, who plays Sawyer in the ABC drama, and his wife Yessica welcomed a baby daughter in Hawaii on April 9, reports People. The couple have named the new arrival Java Kumala Holloway.Read More
April 24 2009
'Lost' Star Sued for Sexual Harassment
According to a lawsuit filed today in Los Angeles Superior Court, Henry Ian Cusick, who plays Desmond on the show "Lost," is being sued for sexual harassment by a former worker on the show. Read more
Community content is available under
CC BY-NC-ND
unless otherwise noted.