This course examines the complex relationship between Right vs. Wrong, Us vs. Them, and Good vs. Evil, and applies it to both LOST and the real world.
Class 1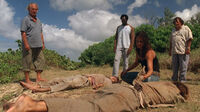 Why do we consider "others" as inherently bad? Through a philosophical discussion on morality, ethics, and how group dynamics influence our decision-making, this class is designed to provoke thought and discussion about how we come to decide between right and wrong.
400px|left|Lost University: PHI201 Class 1
Reading List
• Equality and Partiality (Thomas Nagel)
• Ethics and the Limitations of Philosophy (Bernard Williams)
• Boundaries and Allegiances: Problems of Justice and Responsibility in Liberal Thought (Samuel Scheffler)
Community content is available under
CC BY-NC-ND
unless otherwise noted.