The Lost Season 4 (Original Television Soundtrack) was released on May 12, 2009. Varèse Sarabande released the music score from the fourth season of the show, composed by Michael Giacchino. The disc features the Oceanic Airlines logo. Behind it, Jack, Daniel and Sayid follow the satellite phone through the jungle.
The Lost Symphony
"

Assembling the annual soundtrack for LOST is always an enormous - but also rewarding and fun - task. I re-watch every episode and re-listen to every cue. I know how dedicated the fans of the show are and that, invariably, every cue I leave off of the soundtrack is going to be someone's favorite. For Season 3, I just couldn't contain the music to one CD. For the fourteen episodes of Season 4, however, I had a fighting chance. I think, over the course of the seventy-eight minutes finally settled on, the musical and dramatic arc of the fourth season is exhibited as well as seventy-eight minutes allows.

Each successive season has allowed Michael Giacchino the opportunity of further exploring his principal LOST motifs, as well as introducing new ones - as the mystery unfolds and events warrant. From the very beginning (Pilot, Part 1), Michael set himself a certain constraint which, in turn, spawned all the ensuing invention. In the grand tradition of the way Jerry Goldsmith and Bernard Herrmann would help define the "sound" of a new score by a very specific and tailored instrumentation, Michael would apply the concept on a previously unimagined scale, using a string orchestra with trombones, piano, harp, percussion, and an occasional fleeting guitar, to support not only a single episode or season, but the entire six-year LOST saga. Far from being a limiting force, this approach would ultimately give Michael's LOST scoring a unity and a depth that is now even considered, let alone attempted, elsewhere in television. Characters, relationships, and events all have defined motifs which are endlessly explored in fresh and inventive ways.

The principal musical themes of LOST, as featured on previous seasonal soundtracks, form movements, so to speak, in the greater LOST symphony. In fact, on September 22, 2007, a bona fide LOST Symphony was performed by the Honolulu Symphony Orchestra at the Waikiki Shell, complete with Terry O'Quinn reading "Messages From The Bottle" as interstitials. Hearing the music of LOST performed under the stars - at the foot of Diamond Head, with trade winds rustling the stage-side palm trees - made for a truly unimaginable, and indeed magical, evening! There was even Oceanic 815 wreckage on the stage ... with luggage strewn about!

For LOST, Michael Giacchino has created a unique musical world. Even a casual fan of the show can recognize his work from a single note ... a bar of those unnerving strings or a trombone glissando, a low string on the harp or a few delicate notes on the piano. Not even a melody is required. From the very first note of this Season 4 album to the last, we're instantly transported to The Island.

Didn't need a plane. Michael Giacchino took us there.

"

—Robert Townson
Track list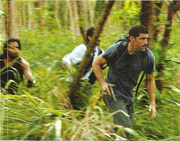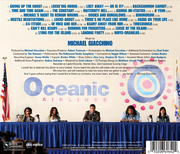 Track descriptions
| # | Track title | Track description | Track type |
| --- | --- | --- | --- |
| 1 | "Giving Up the Ghost" | Hurley receives a visit from the deceased Charlie. | Emotion track |
| 2 | "Locke'ing Horns" | Hurley chooses to heed Charlie's warning about the people from the boat. | Character/Event theme |
| 3 | "Lost Away - Or Is It?" | Sayid leaves the island on the helicopter with Frank, Desmond, and the corpse of Naomi. | Character theme |
| 4 | "Backgammon Gambit" | Locke and Sawyer discover that Kate had let Miles out of the boathouse. | Character theme/Suspense track |
| 5 | "Time and Time Again" | Daniel reveals to the group on the beach that Desmond may be experiencing side effects from exposure to radiation, while the helicopter arrives at the freighter. | Suspense/Adventure track |
| 6 | "The Constant" | Desmond calls Penny to stop his temporal displacement. | Character theme |
| 7 | "Maternity Hell" | At the hospital, while going into labor, Sun asks for Jin, who loses a panda in a taxi. | Suspense track |
| 8 | "Karma Jin-itiative" | Bernard and Jin discuss karma while fishing. | Character theme |
| 9 | "Ji Yeon" | After Ji Yeon is born, Hurley and Sun visit Jin's grave. | Character/Event theme |
| 10 | "Michael's Right to Remain Wrong" | After being denied his right to see Walt by his mother, Michael decides to kill himself, only to be confronted by Tom. | Character theme/Suspense track |
| 11 | "Bodies and Bungalows" | While the group on the beach discover a washed up body, the group at the barracks get attacked by the mercenaries from the freighter. | Suspense/Action track |
| 12 | "Benundrum" | The group at the barracks wonder what to do about the mercenaries before Miles comes in and tells Ben they want to talk. | Suspense track |
| 13 | "Hostile Negotiations" | Ben refuses to give himself up, so Keamy shoots Alex. | Suspense track/Character theme |
| 14 | "Locke-about" | In flashback, Matthew Abbadon advises Locke to go on a walkabout. In the present time, Keamy kills Ray and Captian Gault on the freighter, before heading back to the island with his men. | Character theme/Suspense track |
| 15 | "There's No Place Like Home" | The Oceanic 6 reunite with their families. | Emotion track |
| 16 | "Nadia on Your Life" | In flashforward, Sayid reunites with Nadia. In the present time, Sayid returns to the Island to warn everyone that the men from the freighter have every intention of killing them all. | Character theme/Suspense track |
| 17 | "C4-titude" | Desmond, Michael, Jin and Sun discover explosives on the freighter, while Kate and Sayid get captures by the Others on the Island. | Suspense track |
| 18 | "Of Mice and Ben" | Ben gives Locke instructions on how to get into the Orchid station before surrendering himself to the mercenaries. | Emotion/Suspense track |
| 19 | "Keamy Away from Him" | The mercenaries get ambushed by the Others. | Suspense/Action track |
| 20 | "Timecrunch" | Michael uses a tank of nitrogen to freeze the bomb, while more survivors get brought to the freighter. | Adventure track |
| 21 | "Can't Kill Keamy" | The survivors leave the Island on the helicopter, while Keamy is revealed to still be alive. | Emotion/Suspense track |
| 22 | "Bobbing for Freighters" | After Ben stabs Keamy to death, the Oceanic 6 have until the bomb explodes to get off the freighter. | Emotion/Suspense track |
| 23 | "Locke of the Island" | Locke takes leadership of the Others while Ben moves the Island. | Character theme/Suspense track |
| 24 | "Lying for the Island" | Jack tells the others they have to lie about everything that's happened to protect the people they left behind. Moments later, Desmond reunites with Penny and introduces her to the Oceanic 6. | Suspense/Emotion track |
| 25 | "Landing Party" | The Oceanic 6 paddle to the island of Membata to await their "rescue". | Emotion track |
| 26 | "Hoffs-Drawlar" | Jack breaks into the funeral home to visit the deceased Jeremy Bentham, then gets a visit from Ben, who says that all the Oceanic 6 have to go back to the Island and they must also bring Bentham, who is, in actuality, John Locke. | Suspense track |
Album credits
Produced by Michael Giacchino
Executive Producer: Robert Townson
Orchestration by Michael Giacchino
Additional Orchestration by Chad Seiter
Conducted by Tim Simonec
Performed by The Hollywood Studio Symphony
Contracted by Reggie Wilson
Assistant Conductor: Connie Boylan
Recording Engineer: Danny Wallin
Copyist: Brooker White
Music Editors: Alex Levy, Stephen M. Davis
Assistant Music Editor: Paul Apelgren
Additional Score Preparation: Andrea Datzman
Mastered by Erick Labson
CD Package Design by Matthew Joseph Peak, SoundChaser Studios
Recorded at Capitol Records, Warner Bros. Clint Eastwood Scoring Stage
The Hollywood Studio Symphony
Violins
Jim Sitterly (concertmaster)
Ken Yerke (principal 2nd)
John Wittenburg
Norman Hughes
Harris Goldman
Terry Glenny
Armen Garabedian
Rebecca Bunnell
Ezra Kliger
Jean Sudbury
Shalini Vijayan
Shari Zippert
Peter Kent
Charlie Everett
Razdan Kuyumijian
Mark Robertson
Violas
Darrin McCann (principal)
Karie Prescott (alt. prin.)
David Stenske
Richard Rintoul
Harry Shirinian
Jorge Moraga
Marda Todd
Caroline Buckman
Celli
Larry Corbett (principal)
Steve Richards (alt. prin.)
Daniel Smith
Victor Lawrence
Suzie Katayama
Stefanie Fife
Matt Cooker
Rick Naill
String Basses
David Stone (principal)
Karl Vincent (alt. prin.)
Norman Ludwin
Chuck Nenneker
Trombones
Alex Iles (principal)
Alan Kaplan (alt. prin.)
Charlie Loper
Steve Holtman
William Reichenbach
Kenneth Kugler
Bruce Otto
Harp
Piano
Percussion
Special thanks
"

I would like to dedicate this album to Larry Corbett. You've heard him play his self-made cello on just about everything I've recorded. We miss him, and will continue to miss him every time we gather to play.

And it goes without saying that I would like to thank my orchestra, my music team, and finally...my family.

"
Trivia
See also
External links
Community content is available under
CC BY-NC-ND
unless otherwise noted.