The Lost Season 2 (Original Television Soundtrack) was released on October 3, 2006. Varèse Sarabande released another soundtrack album featuring music composed by Giacchino from the show's second season. Season 2's disc artwork features the message bottle with the blast door map behind it. However, some of these elements appear to be incorrect on the Season 2 disc.
A Note from the Composer
"

I am about to start my 3rd season of composing music for LOST. This summer, for the first time since I began working on the show, I had a chance to visit the set in Hawaii.

This show has always been special to me, for so many reasons, but my visit with the wonderful cast and crew reaffirmed for me why I love working on the show. You couldn't find a more fun, generous, warm and simply inspirational group of people.

In the end, LOST isn't necessarily about the polar bears, the hatch, the numbers or even the Others. For me, LOST is about the idea that we as individuals can be better. Whatever happens to you in life, the one thing you always have is the chance to improve upon your flaws.

As I quietly wandered the beach set that serves as the encampment for the survivors, I couldn't help but think of our own world as that troubled island in LOST, a small bottle violently tossed in a despondent storm of emotion. And yet, even with its failings, sometimes the sea is calm, and I am able to find hope that it may improve.

"
Track list

Back cover
Track descriptions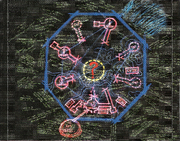 Image used behind the disc tray
Album credits
Produced by Michael Giacchino
Executive Producer: Robert Townson
Orchestration by Michael Giacchino
Additional Orchestration by Chad Seiter
Conducted by Tim Simonec
Performed by The Hollywood Studio Symphony
Orchestra Contracted by Reggie Wilson
Recording Engineer: Dan Wallin
Copyist: Booker White
Music Editors: Stephen M. Davis, Michael T. Andreas
Additional Score Preparation: Andrea Datzman
Mastered by Erick Labson
CD Package Design by Matthew Joseph Peak
Recorded at Capitol Records, O'Henry Sound Studios, Warner Bros. Clint Eastwood Scoring Stage
The Hollywood Studio Symphony
Violin
Jim Sitterly (concert master)
John Wittenberg
Kenneth Yerke
Robert Brosseau
Rebecca Bunnell
Ron Clark
Charles Everett
Armen Garabedian
Berj Garabedian
Terence Glenny
Harris Goldman
Galina Golovin
Alan Grunfeld
Norman Hughes
Peter Kent
Ezra Kliger
Razdan Kuyumjian
Robert Matsuda
Alyssa Park
Mark Robertson
Shalini Vijayan
Shari Zippert
Jean Sudbury
Viola
Darrin McCann
Karie Prescott
Maria Newman
Caroline Buckman
Jorge Moraga
Andrew Picken
Shanti Randall
Richard Rintoul
Harry Shirinian
David Stenske
Marda Todd
Pamela Goldsmith
Cello
Larry Corbett
Suzie Katayama
Victor Lawrence
Daniel Smith
Stefanie Fife
Steven Richards
Richard Naill
Matthew Cooker
Miguel Martinez
Kevan Torfeh
John Acosta
Bass
David Stone
Karl Vincent
Norman Ludwin
Charles Nenneker
Trombone
Alexander Iles
Alan Kaplan
Charles Loper
Bruce Otto
Kenneth Kugler
Andrew Martin
William Booth
Bob McChesney
Steven Holtman
Robert Sanders
Bass Trombone
William Reichenbach
Craig Ware
Harp
Gayle Levant
Marcia Dickstein
Eleanor Choate
Guitar
Percussion
Emil Radocchia
Alan Vavrin
Daniel Greco
Special thanks
"

Special Super Thanks to Damon Lindelof, Carlton Cuse, Stephen Davis, Mike Andreas, Ra'uf Glasgow, Cheryl Foliart, Chad Seiter, Andrea Datzman, Samantha Thomas, and the ENORMOUSLY talented cast and crew of LOST. I must thank my team - were it not for the help of the players of the Hollywood Studio Symphony, the Disney music department, my conductor, contractors, copyists, music editors, and assistants and various LA recording stage crews, this CD would be blank. To Bryan Burk - I wish you were the dictionary definition for the word "producer." One of my favorite people, ever. And finally, J.J. Abrams - simply put, you are an imaginative genius who sparks my mind every time we get together. THANK YOU. And as always, "ginormous" love to my family - Jamie, Mick, Gracie and Griffith.

"
Trivia
The booklet included with this soundtrack lists most of the tracks being in the wrong episodes. This error might be due to the numbering of the tracks on the album.
This soundtrack does not contain any scores from the following episodes: "

Adrift

", "

...And Found

", "

Abandoned

", "

The Hunting Party

", "

The Long Con

", "

Lockdown

", "

Dave

", "

Two for the Road

", "

?

" and "

Three Minutes

."
"

Live Together, Die Alone

" has the most tracks featured on this soundtrack, with six.
See also
External links