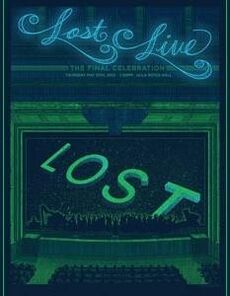 Poster for the event at UCLA, May 13, 2010

Lost Live: The Final Celebration was a special event held at UCLA's Royce Hall on May 13, 2010 to celebrate the finale of Lost. Appearing at the event were several cast members, including Josh Holloway, Jorge Garcia, Daniel Dae Kim, Michael Emerson, Carrie Preston, Nestor Carbonell, L. Scott Caldwell, Henry Ian Cusick, Sonya Walger, Rebecca Mader, Jeremy Davies, Harold Perrineau, Malcolm David Kelley, Ian Somerhalder, Titus Welliver, François Chau, Lance Reddick, Sterling Beaumon, William Mapother, Kim Dickens and Daniel Roebuck, composer Michael Giacchino, as well as executive producers Damon Lindelof and Carlton Cuse. Proceeds from the event were donated to The Colburn School for the performing arts in Los Angeles
Event
Damon Lindelof and Carlton Cuse opened the show by introducing the cast members present at the event and speaking about their experiences in creating the show. The orchestra was then introduced, led by Michael Giacchino. Seven musical pieces from the show were played, followed by a piece written by Giacchino for the Pixar film Up. Between each of the musical pieces, cast members took the stage and read from letters written by minor or unnamed survivors of Oceanic 815 which, according to Lindelof and Cuse, were composed by show's writers during Season 1 and placed in the message bottle. After the last musical piece, several members of the production staff were then introduced and spoke while the stage was cleared in preparation for the early screening.
Musical Arrangement
As listed in the program:
1) "Lost Main Theme"
2) "Hollywood and Vines"
3) "Oceanic 6"
4) "The Temple of Boom"
5) "Life and Death"
6) "The Tangled Web"
7) "Parting Words"
Encore (unlisted): Theme from Pixar's Up
Early screening
The penultimate episode of the series, "What They Died For", was shown during the event, five days prior to its official U.S. air date.
Links