Lost: The Complete Collection

Discs
Blu-ray – 36
DVD – 38
Lost: The Complete Collection is a box set that contains all 121 episodes of Lost. It also contains over two hours of bonus footage exclusive to the complete collection. There are 38 discs in the DVD set and 36 for Blu-ray. It was released, along with the Season 6 DVD, on August 24, 2010 in the US (Region 1), and on October 11, 2010 in the UK (Region 2). A barebones Complete Collection without the exclusives extras was released on September 13, 2010 in the UK. It was released on October 20, 2010 in New Zealand and Australia (Region 4).
Press release information
BURBANK, CA, May 27, 2010 – Since its highly-anticipated premiere in September 2004, ABC's LOST has revolutionized primetime television, bringing big-screen adventures home with a powerful story of survival. Attracting a massive fan following and huge critical acclaim, LOST has already become a pop culture phenomenon. Now, celebrating television's most original and creative series, Walt Disney Studios Home Entertainment proudly debuts Lost: The Complete Sixth and Final Season and Lost: The Complete Collection - both on Blu-ray and DVD, August 24.
An epic box set for the ultimate LOST fan, Lost: The Complete Collection is a fantastic icon-clad, secret-laden, Blu-ray and DVD box set containing every episode, from all six seasons. Additionally, the elaborate release includes over 30 hours of bonus material (from every season), plus one full disc of bonus exclusive to the collection, containing a fascinating array of all-new behind-the-scenes featurettes; documentaries; and a series of unique tours of Oahu with many of the cast as they reflect anecdotes, experiences and emotions of working on the series and living on the island; and more.
Exclusive bonus features
The Complete Collection contains all previous and new bonus material from Seasons 1-6, plus an exclusive disc containing two hours of bonus features. The exclusive content includes: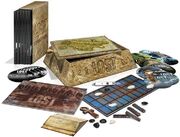 Previously released and unreleased extras
*Newly released extras exclusive to the complete collection.
Note: The Lost Chronicles deleted scenes from Season 1 therefore remain the only extras never to have been released on any Lost DVD or Blu-ray sets. Also, the Season 6 Best Buy bonus features are also absent.
Blu-ray exclusive features
Note: May 19, 2008 podcast is incorrectly labled as "The Shape of Things to Come" on the disc.
Extras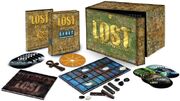 The extras included are: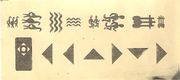 *Not included in Region 2 sets.
Easter eggs
DVD
From the main menu:
Blu-ray Disc
Specifications
Street Date: August 24, 2010
Feature run-time: 5074 minutes
Rated: TV-14

Blu-ray Disc
Discs: 36
Aspect ratio: 1.78:1
Video: 1080p MPEG-4 AVC/H.264
Audio: DTS-HD Master Audio 5.1 (48kHz/24-bit) for Seasons 1, 2, 5 & 6 and LPCM 5.1 (48kHz/16-bit) for Seasons 3 & 4
Languages: See Individual Sets
SRP: $279.99 U.S.

DVD
Discs: 38
Aspect ratio: 1.78:1 (Anamorphic Widescreen)
Audio: Dolby Digital 5.1
Languages: See Individual Sets
SRP: $229.99 U.S.

(technical specifications may only apply to feature)
Trivia
See also
External links