Real World article
(written from a Production point of view)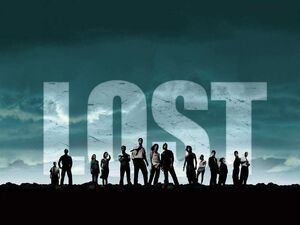 Lost is an American serial drama television series that predominantly followed the lives of the survivors of a plane crash on a mysterious tropical island. There, they had to negotiate an unknown monster, an unpredictable group of prior occupants, strange, other worldly island inhabitants, polar bears, and each other as they tried to survive and attract rescue. The main ingredients that have made Lost an icon for success have been its international ensemble cast, plotline of mysteries, flashbacks, flash-forwards and flash sideways.
Lost was created by Jeffrey Lieber, J.J. Abrams and Damon Lindelof, was produced by Bad Robot Productions, and was filmed almost entirely on location in Hawaii by their local production company Grass Skirt Productions. The show was produced by ABC Studios (formerly Touchstone Television) and aired on the ABC network in the US. Its musical score was composed by Michael Giacchino. Lost has also been known for its innovative nontraditional marketing, including a world-spanning alternate reality game (ARG) in 2006 called The Lost Experience
Development
Conception
Under the lead of group chairman Lloyd Braun, ABC had seen a steady decline to the number four spot in ratings, behind NBC, CBS, and Fox. The network was desperate for new hits. In the summer of 2003, about 50 ABC executives met at a retreat in Disney's California Adventure in Anaheim, California.[1] During a banquet, people suggested various concepts for new TV shows. Lloyd Braun himself pitched the idea of what he described as "Cast Away - The Series", after the movie starring Tom Hanks. (The Genesis of Lost)
Even though many people initially laughed at Braun's idea (some comparing it to Gilligan's Island), Thom Sherman, then former senior vice president at ABC, liked the idea and asked his friend Ted Gold, then employed at Spelling Productions, to come up with a working concept based on Braun's idea. Jeffrey Lieber was hired to write a story for what was pitched to him as a "hyperrealistic portrayal of life on a deserted island", and he came up with a setting similar to Lord of the Flies. In September 2003, Lieber pitched his premise, then named Nowhere, to ABC, and was then asked to write a pilot. Even though he was originally only asked for a few minor rewrites before it would be considered ready to start shooting, Lieber eventually ended up heavily rewriting his script.[2] At an unknown point of time, the concept was also known under the working name The Circle. (The Genesis of Lost) Ultimately, Lloyd Braun, still not satisfied with Lieber's script, fired him.[3]
At that point, it was very late in the 2003/2004 season, but Braun was desperate to get his idea turned into a TV series. He approached J.J. Abrams to rewrite the script. At that point, Abrams was involved with his TV show Alias and the development of a new pilot named The Catch, but Braun still convinced him to help him out with the new show. The one inviolable edict Braun made was that the show's title must be Lost, having conceived of the title and being angry at its change to Nowhere by Lieber.[4] Abrams had the idea of making the island itself a "character", an idea Braun liked. Because Abrams was busy with his other projects, another writer named Damon Lindelof was brought on board. (The Genesis of Lost) Together with Abrams, he prepared a rough outline. Even though they had no actual script, Braun greenlit the project and granted it a budget of nearly $12 million.[4] This was the final straw for Disney, who had been dissatisfied with Braun's performance as ABC's chairman for quite a while. Considering the concept of the show "a crazy project that's never going to work" (Michael Eisner, chairman and chief executive of Disney) and "a waste of time" (Bob Iger, Eisner's deputy), they decided to fire Braun. [5] Damon Lindelof and Carlton Cuse later referred to Braun's decision to greenlight the pilot's budget as a "final f**k you" to Disney and ABC, who he knew intended to fire him anyway.[6]
Casting began before the script was finished—in fact, Abrams and Lindelof would write scenes just so they could begin casting actors. The show bible was still being developed during post-production of the pilot.[7] Many characters were written specifically based on actors who had made an impression during casting. From its initial conception by Abrams and Lindelof, the entire pilot was put together in just 12 weeks—including writing, casting and production. As a result, the larger show mythology wasn't put together by Lindelof and Carlton Cuse until some time later.[8] One of the earliest ideas that had come up in the very first meeting between Abrams and Lindelof was that the characters would discover a hatch on the island; however, ultimately this wouldn't happen until the eleventh episode, "All the Best Cowboys Have Daddy Issues". (Secrets from the Hatch)
Casting
J.J. Abrams and Damon Lindelof first imagined Jack as a leader, who be killed by the Monster in the first part of the pilot. Michael Keaton was originally slated to play Jack in a guest capacity.[9] However, Keaton was never actually sent a script. The idea to have Jack die in the first episode remained until a week before shooting began. Stephen McPherson, who was at that time the head of Touchstone, was adamant that Jack had to survive, because he felt the audience would feel "cheated" if Jack died after they had invested into the character for an hour. Therefore, it was decided that Jack would survive, and the pilot of the plane was written into the script as the character who would be killed by the Monster instead. Matthew Fox was eventually cast as Jack. (Season 1 DVD bonus feature "Before They Were Lost")
Kate was originally written as a woman in her late twenties/early thirties who was married. Her husband would have been missing following the crash since he would have been in the tail section of the plane, and Kate's quest to find him would be one of the character's main motivations. After Jack's (planned) death, Kate was intended to assume leadership of the survivors. These ideas for the character were ultimately scrapped during casting, coupled with the studio's decision to keep Jack alive, and some of the original ideas for the Kate character eventually ended up as the character of Rose, whose husband had also disappeared with the tail section of the plane during the crash. Both Evangeline Lilly and Yunjin Kim auditioned for the role of Kate. Lilly, who had sent in an audition tape from Canada, was the preferred choice of J.J. Abrams, but due to delays with getting her visa cleared, shooting had to begin without Lilly, and Abrams and Lindelof continued auditioning other actresses for an entire day until they were informed that Lilly's visa had finally been cleared. (Season 1 DVD bonus feature "Before They Were Lost")
Sawyer was originally conceived as a "suit-wearing con man", while Charlie was intended to be an older, "has-been" rock star. Matthew Fox, Dominic Monaghan, Jorge Garcia and Josh Holloway all auditioned for the role of Sawyer. (Season 1 DVD bonus features "Before They Were Lost" and "Audition Tapes") The character was ultimately rewritten to be more "feral" based on Holloway's performance, while Fox was cast as Jack. Meanwhile, the character of Charlie was turned into a younger "one hit wonder" rock star to suit Monaghan. (Season 1 DVD bonus feature "Before They Were Lost")
Several characters were not in the original outline. Some of them were actually written specifically for actors who had made an impression during their auditions for other characters. The first character to be cast for the show was Hurley, created specifically for Jorge Garcia. Likewise, when Yunjin Kim revealed that she spoke fluent Korean, the character of Sun was created specifically for her, and Daniel Dae Kim was cast as her on-screen husband Jin within days after Yunjin Kim's initial audition. Meanwhile, the character of Sayid was also not in the original outline and was created for actor Naveen Andrews, who had previously worked with Lost executive producer Jeff Pinkner. (Season 1 DVD bonus feature "Before They Were Lost")
Creatorship disputes
After Jeffrey Lieber, who had come up with a script for a pilot before the concept of the show would be overhauled by J.J. Abrams, had been fired by Lloyd Braun, he felt that he deserved a credit for his work. Lieber complained to the Writers Guild of America, whereupon ABC and Touchstone argued that Lieber's initial concept had nothing to do with the show that was now being developed.[10] Lieber managed to get his hands on a shooting script for the pilot and drew parallels between characters in the shooting script and those from his own script. The WGA eventually ruled in Lieber's favor, granting him a 60% creatorship credit, with the remaining 40% being split between Abrams and Lindelof. This was more than Lieber had hoped for, and he now feels outright embarrassed for being credited for something he himself admits he didn't really have anything to do with. In 2005, Lieber even received an Emmy nomination for his (credited) participation in the writing of the pilot.[11] Some former members of ABC's development team feel that Lieber's credit is undeserved, arguing that the alleged similarities between characters would have been the same under any writer. To this day, Lieber receives annual royalties in the "low six figures" for his credited contribution to the show's creation.[12] In September of 2009, Lieber's original pilot script, titled Nowhere, surfaced on the internet.[13]
In 1977, a TV producer named Anthony Spinner was asked to write a pilot named Lost for ABC, which was about a group of people who survive a plane crash on a seemingly deserted but mysterious island.[14] Even though Spinner was paid $30,000 for his 121-page script, the pilot was never picked up, and Spinner later tried to submit it again in 1991 and 1994.[15] When Lost the show started airing in 2004, Spinner believed that ABC had ripped off his idea and filed a lawsuit in 2005.[16] The suit was initially dismissed for procedural reasons, but Spinner eventually refiled it in 2009.[17] Among the parallels drawn are broad generalizations such as "plane crashes on a tropical island", stock characters such as "drug addict" or "female lead with a criminal past" and stock plots such as "female character torn between two men, resulting in jealousy". One character in Spinner's script, a man named "Hagan", is alternatively compared to John Locke, Sayid, Kate and Jack, whereas another character named "Butch" is alternatively claimed to share character traits with Jack, Sayid and Sawyer.[18] Shannon's relationship with Sayid, which doesn't happen until well into the first season, is also among the alleged similarities, a plot which actor Naveen Andrews previously took credit for. (Lost: On Location (Season 2))
History
Crew
There have been numerous changes to the creative writing staff behind the storyline of Lost from the beginning to the end. The most notable one is the quick departure of co-creator J.J. Abrams from the show. Abrams was never fully invested in Lost due to his duties on his own show Alias and his planned pilot The Catch (which ultimately never got picked up). Damon Lindelof had originally been brought on board to help Abrams develop the outline for the show. Together, Abrams and Lindelof wrote the two-part pilot episode, "Pilot, Part 1" and "Pilot, Part 2", which Abrams also directed. (The Genesis of Lost) Following that, Abrams passed on working duties to Lindelof. Early in Season 1, Carlton Cuse talked Lindelof out of quitting Lost, and joined the show's staff as an executive producer. [19] From this point on, Abrams stopped being directly involved with the show [20], although he made a brief return early in season 3 when he wrote the season premiere, "A Tale of Two Cities", together with Damon Lindelof. Since Abrams' departure, Lindelof and Cuse have been the main showrunners, and worked out the main mythology of Lost during the development of season 1.[21]
Paul Dini was with Lost since its inception, and was present at the Season 1 preview screening at Comic-Con 2004. Adam Horowitz and Edward Kitsis joined the writing group midway through the first season. Javier Grillo-Marxuach no longer writes for Lost, although he wrote for and participated in The Lost Experience. Jeph Loeb joined as co-executive producer in Season 2. Drew Goddard and Brian K. Vaughan also joined the writing staff during Season 3. Many of the writers are also known for their work in the television as well as the comics industry.
The FX department, originally based in California, was later moved to Hawaii. The Hawaii offices of Grass Skirt Productions moved from Dole Cannery Offices to the Hawaii state-operated Hawaii Film Studio. At this time the primary sound stage in the former Xerox Hawaii building near Dole Cannery, which included the set for the caves, also moved to the Hawaii Film Studio where the sets for the Swan and Hydra station interiors were created. [22] [23]. The other location settings are, with a handful of exceptions, located exclusively the island of Oahu in Hawaii. [24] The exceptions include the airplane interior of the Pilot, and the underwater scenes in "Whatever the Case May Be", filmed in southern California near Hollywood[25], and the polar bear cave, filmed on the Big Island of Hawaii.[26]
Jack Bender was an executive producer, and along with Jean Higgins comprises the top ranking staff members who resided in Hawaii with the film crew, although Carlton Cuse, the "show runner" for Lost, frequently traveled from California to be with the crew. Bender thus naturally served as the primary resident director for episodes, although Lost also used a wide range of guest directors.
Marketing
Lost has been notable as a television program that has been heavily integrated with a multifaceted interaction with viewers, many of which have been industry firsts. These have included a significant use of the internet, including three Alternate Reality Games (The Lost Experience, Find 815, and the Dharma Initiative Recruiting Project), webisodes, official podcasts, an official forum called "The Fuselage", episodes made available through iTunes after broadcast for viewing on iPods, episodes viewable online at ABC's official site, Xbox Live downloads, and tacit support of fan sites. Lost has also been notable for combining all of these approaches to achieve what some have described as "viral" or "meme" status.
Awards won
Influence
Lost (along with Desperate Housewives and Grey's Anatomy) is often credited with helping to "revive" ABC in its maiden 2004-05 season.[27] Prior to that, ABC had been falling behind other networks with unpopular derivative shows and low ratings. Thanks to Lost and other new shows of that season, ABC was revived as one of the stronger networks and has remained so since. The success of Lost also spawned subsequent attempts at various networks at serial dramas with continuous storylines , especially those with flashbacks and an element of mystery, such as ABC's own The Nine and Daybreak (both canceled), even though serial dramas tend to be less popular, and therefore less profitable, in syndication.
Broadcast
United States
See also: Criticism of Lost#Scheduling
Lost aired on the ABC network in the United States. ABC, and by extension its parent company Disney, own the rights to Lost.
ABC aired the first season of Lost (2004–2005) on Wednesdays at 8/7c, and moved the second season (2005–2006) one hour later to 9/8c. Both seasons started in the fall and ended in the spring, with multiple breaks in which repeats were shown. For Season 3 (2006–2007), in an effort to maximize the amount of straight-run episodes, ABC divided the season into two "mini-seasons": a 6-episode pod in the fall and a 16-episode pod in the spring. For the second "mini-season", due in part to avoiding Fox's American Idol, Lost was moved to a new time slot of 10/9c on Wednesdays. Viewership dropped to its lowest levels, although it is unclear if that was due more to the time slot, hiatus, or viewer interest in the actual storyline of Season 3. However, Nielsen reported that Lost was the top time shifted show from January 01, 2007–November 18, 2007, meaning that it benefited the most from DVR playback at a date later than the broadcast. [28] For Season 4, Lost was moved to Thursdays at 9/8c, starting on January 31, 2008, a change brought on by the effects of the writers' strike on the network's lineup. The straight-run format was kept, but reduced episodes meant that a fall start date and mid-season break were no longer necessary. Season 4 was broken up into an 8-episode pod and a 5-episode pod due to the writers' strike. For the second group of episodes, beginning on April 24, 2008, the timeslot has been changed to 10/9c on Thursdays [29]. In season 5, 17 episodes were broadcasted, with only two hiatuses, on Wednesdays at 9/8c. Season 6, the final season of Lost, began airing its run of 18 episodes on February 2, 2010 in its final timeslot of Tuesdays at 9/8c, with only one break during the season. ABC has announced the airdate for the series finale of Lost to be Sunday, May 23rd at 9/8c.
Lost was also available for viewing the next day in full episodes on the ABC webpage, and was available on the Xbox Live marketplace. Since the second "mini-season" of Season 3, ABC started showing Lost back-stories, of which four new mini-episodes were available on the website at the time of a new episode. Averaging around four and a half minutes long, these mini-episodes portrayed part of a character's life before the crash, in chronological order.
Canada
Lost was shown on different networks in Canada. (CTV) network aired in English. (SRC) network was dubbed in French. The CTV network showed Lost at 7:00 pm ET on Wednesdays. SRC (Société Radio-Canada) network showed Lost (under the name Perdus) dubbed in French. It was also shown on Wednesdays at 7:00 pm ET, and also aired on Saturdays at 10:30 pm ET.
Canadian broadcasts on the CTV Network were concurrent with US broadcasts, while on the SRC they were a little more than a half a season behind. With Season 3's post-hiatus later time slot change in the US, Canadian viewers actually saw Lost before the American viewers: the east coast Canadian broadcast was two hours, and in some weeks three hours, ahead of the east coast US broadcast.
For Season 4 the show was aired thursdays on both CTV and SRC, on CTV the same time as on ABC and at the SRC it was at 8:00 pm ET. CTV stopped airing LOST for the fifth season, but their affiliate 'A' channel did, Wednesdays at 9:00 pm ET.
Most Canadian cable and satellite providers also carry major ABC affiliates, usually from Seattle and Detroit.
United Kingdom
The first two seasons of Lost were seen on Channel 4. Before Season 3 began broadcast in the US, Sky One bought the rights to air Seasons 3 and 4. Virgin Media and Sky One disagreed over the price of the Sky TV channels. Virgin Media ceased carring Sky One, which made the Sky Digital platform the only way to watch Lost on broadcast TV in the United Kingdom. Virgin Media secured the rights to on-demand broadcasts of Seasons 1 - 3 of Lost, from August 2007. [30]
UK broadcasts of Lost originally began Season 1 eleven months later than in the US, but caught up by broadcasting Season 2 just two months after the end of the Season 1 broadcast. As of Season 3, the episode broadcast in the UK were just four days behind US airing.
Ireland
Lost was aired in Ireland by free-to-air station RTE 2 and on a number of subscription packages by Sky One. RTE 2 was one of the first European stations to air Lost and began nine months after the first US airing, though began catching up during the first season by airing two episodes in one night on a number of occasions. Lost aired on Thursday nights at 10:00 and aired the finale on Monday, May 24th, 2010 at 9 pm
Australia
In Australia, Lost was always aired by free-to-air station Channel 7. From season one to two, Lost aired at Thursdays 8:30 pm. For season three, Lost was pushed up to 9:30 pm. For the most of season 4, Lost retained it's 9.30 pm timeslot but eventually it was moved to 10.30 pm. In season 4, new Lost episodes aired six days behind USA, in comparison to 3-5 months behind although as of Season 5, episodes aired 3-5 weeks behind. Many Australian fans of Lost complained that Channel 7 was 'abusing' Lost, by pushing it back to later times, ending each episode early (as of season 5) and airing episodes further and further behind the original US airing. Channel 7 has a history of doing similar things to US serials, eg 24 and Alias.
New Zealand
In New Zealand, Lost aired every Wednesday at 8:30pm and was broadcasted by TVNZ's free-to-air channel 2 [31]. New Zealand was usually about five episodes behind the United States.
The Lost Experience and countries involved
Australia's Channel 7 and the United Kingdom's Channel 4 also played an integral part in The Lost Experience (TLE), along with the United States' ABC, with official bloggers being assigned to each: The Lost Ninja was based in Australia with Channel 7, and The Other Girl was based in the UK with Channel 4, and rounded a trio with Speaker, the US TLE blogger working for ABC. Glyphs and clues in these official blogs and "live" events were found in all three countries during the course of the game.
Series finale
The series finale of Lost was simulcast in six different counties around the world at the same time as the original U.S. broadcast. The unprecedented scheduling move aimed to prevent illegal internet downloads of the finale and save UK fans of the show from having to spend five days dodging web spoilers until it aired on Sky1. Before deciding to join broadcasters in six other countries in simulcasting the show, the UK airing of the finale was due to air on the usual Friday 9pm slot, but then moved to 5am on a Monday morning to coincide with the event. It resulted in this time as it was simulcast at the same time as the west coast transmission. Had it of been simulcast with the east coast it could have aired three hours earlier at 2am making it more accessible to more viewers. According to The Guardian, of the 600,000 fans who watched the episode only 68,000 watched it live, the rest relying on their DVR devices. [32]
Other international
See also voice actors
Lost was broadcast in a number of countries, and their airdates varied from being almost concurrent with the US broadcasts, such as Sweden which was generally only one episode behind, to broadcasting the first season years later, as in Japan. Some countries dub their broadcasts with voice actors, while others use the English audio with subtitling.
Announcement of an end date
For the first three seasons, the future of the show was uncertain. There were rumors about further seasons, and even feature films. However, on May 7, 2007, ABC revealed that Lost was to continue for a further three seasons, with each of them being condensed into 16 episodes. They were to be aired back-to-back with no gaps, starting in February and ending in May. However, due to the Writers Guild of America strike in 2007 and 2008, the fourth season was shortened to 14 episodes. To compensate, Season 5 ran for 17 episodes, and the final season ran for 18. Accordingly, Lost ended on Sunday, May 23, 2010, after 121 episodes.
Fandom
Lost became a widespread hit around the world. This success created a community of dedicated fans who analyzed every single aspect of the show, including planted Easter eggs. The producers, aware of their fanbase, included these Easter eggs to enhance the enjoyment of the show.
Lost: Untangled
ABC, beginning in Season 5, found a new way to recap episodes of Lost called Lost Untangled. This was a comical way of summarizing the previous episode using the Lost character Action Figures from Season 1. These short clips aired after Lost during ABC's "Life On Mars", and were also shown on ABC's Lost web page.
References
Lostpedia
See also
Categories
Miscellaneous