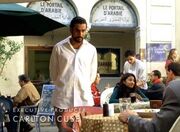 Le Portail d'Arabie is the restaurant where Sayid worked at as a chef with his waiter friend in Paris, France before being imprisoned by Sami. He worked there under the assumed named of Najeev/Najiv. Le Portail d'Arabie is French for 'The Gate of Arabia'. ("Enter 77") The name of the restaurant is visible on the logo on the building.
Community content is available under
CC BY-NC-ND
unless otherwise noted.