Lance Reddick portrayed Matthew Abaddon.
Background and Personal Life
Though few details of Reddick's early and personal life are known, it is known that he was born in Baltimore, Maryland. Reddick also attended the Eastman School of Music, and Yale University. After trying to be a singer, he gave up and was accepted in to the acting branch of Yale.
Career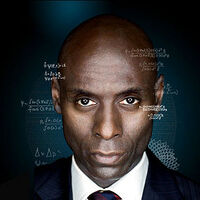 Reddick as Philip Broyles in Fringe.
Reddick's first acting role came in an episode of the 1996 drama New York Undercover, in which he played Oscar Griffin. After several more television appearances, Reddick appeared as Anton Le Farge in the Ethan Hawke drama Great Expectations. That same year, he appeared as a soldier in the monster film Godzilla and also as Agent Floyd Rose in The Siege. 1999 brought him a guest role in The West Wing. The next year, he appeared in three episodes of Falcone. In 2000, Reddick also got a role on the HBO prison drama Oz, which also starred featured many other Lost actors, including Adewale Akinnuoye-Agbaje and Harold Perrineau. Reddick's role as undercover cop Johnny Basil lasted for twelve episodes. During this time, Reddick also appeared in six episodes of Law and Order: SVU. After a variety of television appearances, Reddick began starring on The Wire, a crime drama. Reddick appeared in sixty episodes of the show from 2002 until 2008. In 2008, Reddick was cast in the pilot of J.J. Abrams' show Fringe, in which he appeared as Agent Philip Broyles. The show was a success, and Reddick became a series regular for the first season.
On Lost
In 2007, Reddick was cast as a character known in casting as "Arthur Stevens." After the casting was announced, executive producer Damon Lindelof stated that "One of the things we really gravitated toward was that Lance is very scary looking, and he's a very intensive actor who also has this incredible charisma." [1] The character, actually named Matthew Abaddon, appeared in the first two episodes of the fourth season, "The Beginning of the End" and "Confirmed Dead". The character was very well-received by fans due to his enigmatic nature, and many theories were spawned as to the true identity of the character. The character reappeared once more in "Cabin Fever", and did not reappear until "The Life and Death of Jeremy Bentham", in which Abaddon was killed.
Selected Filmography
| Title | Medium | Character | Year(s) |
| --- | --- | --- | --- |
| Fringe | TV series | Phillip Broyles | 2008 - 2013 |
| Lost | TV series | Matthew Abaddon | 2007 - 2009 |
| The Wire | TV series | Cedric Daniels | 2004 - 2008 |
| CSI: Miami | TV series | David Park | 2005 - 2006 |
| Law and Order: SVU | TV series | Dr. Taylor | 2000 - 2001 |
| Oz | TV series | Johnny Basil | 2000 - 2001 |
| Godzilla | Movie | Officer (uncredited) | 1998 |
| Great Expectations | Movie | Anton Le Farge | 1998 |
Trivia
Community content is available under
CC BY-NC-ND
unless otherwise noted.