Real World article
(written from a Production point of view)

Ken Leung portrayed Miles Straume.
Background
Kenneth Leung was born in New York City in 1970. Though they first lived in the Lower East Side of Manhattan, his family moved to Brooklyn where Leung finished high school. Leung then attended college at New York University. After discovering his talent for acting in his junior year, Leung began taking classes with actress Catharine Russell, among others.
Career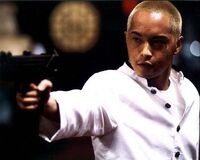 After working in several minor acting troupes and stage and film productions, Leung's first big acting break came with the role of Sang in Brett Ratner's 1997 blockbuster Rush Hour. He was noticed by actor Edward Norton, and was soon cast in Norton's 2000 directorial debut, Keeping the Faith. Over the next few years, Leung appeared in films such as The Family Man and Steven Spielberg's A.I.: Artificial Intelligence. In 2004, Leung appeared in the hit horror film Saw, in which he played Detective Steven Sing, a cop trying to find the "Jigsaw" killer. Saw also featured actor Michael Emerson, who Leung would later act alongside on Lost. Afterwards, Leung appeared in the Spike Lee crime drama Inside Man as a hostage in a bank heist, and in X-Men: The Last Stand, reuniting with director Brett Ratner.
On Lost
After seeing Leung's guest performance on the April 22, 2007 episode of The Sopranos, Damon Lindelof and Carlton Cuse mutually agreed that they wanted Leung to appear on the show. They then drafted the character of Miles Straume specifically for Leung, and contacted his agent. An audition was set up in July. To keep spoilers from being leaked, the scene used for the audition was one that did not appear in the show, but one that emulated the character that they were looking for, who was at the time named "Russell." Lindelof stated that because the character of Miles was specifically created for Leung, if he had not accepted the job then the character would have been completely changed. However, Leung accepted, and began working on Lost in the episode "Confirmed Dead". His character was well received, and Leung was promoted to the main cast along with Jeremy Davies and Rebecca Mader. Leung went on to appear as Miles in eight episodes of the fourth season, and returned as a principal cast member in seasons five and six.
Selected filmography
| Title | Medium | Character | Year(s) |
| --- | --- | --- | --- |
| Star Wars: The Force Awakens | Movie | Admiral Statura | 2015 |
| Person of Interest | Television series | Leon Tao | 2012 |
| Lost | Television series | Miles Straume | 2008-2010 |
| Year of the Fish | Movie | Johnny | 2007 |
| The Sopranos | Television series | Carter Chong | 2007 |
| Shanghai Kiss | Movie | Liam Liu | 2007 |
| X-Men: The Last Stand | Movie | Kid Omega | 2006 |
| East Broadway | Movie | Ming | 2006 |
| Inside Man | Movie | Wing | 2006 |
| The Squid and the Whale | Movie | School Therapist | 2005 |
| Whoopi | Television series | Terrence | 2004 |
| Saw | Movie | Steven Sing | 2004 |
| Law and Order | Television series | Chung, Stephen Wong, Tommy Wong | 1995, 2000, 2002 |
| Red Dragon | Movie | Lloyd Bowman | 2002 |
| Vanilla Sky | Movie | Art Editor | 2002 |
| Spy Game | Movie | Li | 2001 |
| AI: Artificial Intelligence | Movie | Syatyoo-Sama | 2001 |
| Oz | Television series | Bian Yixue | 2001 |
| The Family Man | Movie | Sam Wong | 2000 |
| Maze | Movie | Dr. Mikao | 2000 |
| Keeping the Faith | Movie | Don | 2000 |
| Rush Hour | Movie | Sang | 1998 |