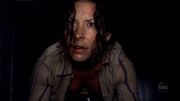 BEFORE THE CRASH
Fugitive from justice for several years
Crimes included armed robbery, assault, resisting arrest
Caused the death of her childhood boyfriend while resisting arrest
Extradited to the United States to stand trial
ON THE ISLAND
Relies on Jack to give her strength and to be her friend
Bravely led the first exploration into the jungle
Chosen by the first exploration group to keep ahold of the gun Sawyer had in his possession
Helps Sayid with the radio transmitters
Broke the first transmitter put together by Sayid when up in a tree and startled by "the monster"
Recovered the U.S. Marshal's Halliburton case from a pond that she found with Sawyer. The Halliburton contained five pistols, documents, and her most cherished possession, a metal toy plane that belonged to her childhood sweetheart
Nicknamed "Freckles" by Sawyer
Labelled "Sheriff" by Sawyer who gives her the U.S. Marshal's badge
Delivered Claire's baby in the middle of the jungle
Exposed to the group as a fugitive by Sawyer after trying to steal his place on the raft
Part of the Black Rock expedition to get the TNT
Helps blow the hatch open
First to go inside the hatch
Ate an Apollo bar while exploring the hatch
Has proven herself to be the most self centered female on the island.