Parody Alert!
This article's subject matter is parodical and non-canon in nature (but distinct from hoax and serious fanon material)
This material is generally fan-created, but occasionally from official or commercial sources.
The joke Script pages are a set of documents released by Lost's producers through various easter eggs on the different Lost DVD box sets; it's possible these were intended to be red herrings.
Mapinguari
From "Exodus, Part 2":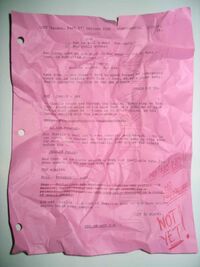 Transcript of Main Text
LOST "Exodus, Part II" REVISED PINK - CONFIDENTIAL (3/23/05)

58.
SUN
...but to kill a man? How could
I? How Could anyone?
Sun looks down at the knife in her hand -- and at Kate --
then, in subtitled Korean
SUN (CONT'D)
I must be strong. For him.
Kate nods -- she doesn't need to speak Korean to understand
where Sun is heading with this -- then, as Kate looks away,
double checking the clip on her 9mm sidearm --
SMASH CUT TO:
EXT. JUNGLE - DAY
-- Charlie tears ass through the jungle. Every step on the
torn, bloodied soles of his bare feet is a lifetime of pain --
but he must press on -- there is no other choice, as the
jungle SHIVERS with the unmistakable --
MMMMMMMMRRRRRRRRRROOOOOOOOOWWWWWWWRRRRRRR:
-- of the monster.
But Charlie's best isn't even remotely good enough -- he is
too tired, too beaten, in too much pain to keep up this pace
for much longer -- and eventually, like all the others
before him --
-- CHARLIE FALLS!
And then, as he turns around to meet his inevitable fate, he
sees something no one has ever seen --
THE MONSTER
Holy. Freakin'. Lord.
Huge. Mechanical AND biological. Godlike and profane. A
massive, multi-tentacled robotic beast resembling a
primordial mapinguari - only partially obscured in a cloud
of acrid smoke!
And off Charlie -- a look of absolute fear on his face unlike
anyone could ever imagine --
CUT TO BLACK:
END OF ACT SIX
Notes
See Also
Jack's Clone
From "Man of Science, Man of Faith":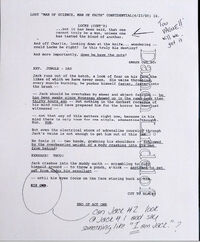 Transcript of Main Text
LOST "MAN OF SCIENCE, MAN OF FAITH" CONFIDENTIAL (6/23/05) 16.
LOCKE (CONT'D)
...but it has been said, that one
cannot truly be a man, unless one
has tasted the blood of another.
And off Charlie, looking down at the knife... wondering --
could Locke be right? Is this truly his destiny?
And more importantly, does he have the guts?
SMASH CUT TO:
EXT. JUNGLE - DAY
Jack runs out of the hatch, a look of fear on his face, the
likes of which we have never seen. His veins throbbing,
every muscle burning, he pushes himself faster, faster into
the brush --
-- Jack should be overtaken by sheer and abject terror fatigue -- he
has been awake since Rousseau showed up in the camp less than
thirty hours ago -- but nothing in the darkest recesses of
his mind could have prepared him for the horror he has just
witnessed --
-- not that any of this matters right now, because in his
mind there is only room for one single, adamantine thought.
Run. RUN.
But even the electrical storm of adrenaline coursing through
Jack's veins is not enough to get him out of this jam.
He feels it -- two hands, grabbing his shoulders -- followed
by the overbearing weight of a body crashing into his own
from behind!
KERRASH! THUD!
Jack crashes into the muddy earth -- scrambling to turn
himself around -- to throw a punch, a kick -- anything to get
out from under his assailant --
-- until his eyes focus on the face staring back at him.
HIS OWN.
CUT TO BLACK:

END OF ACT ONE

Notes
See Also
From "Abandoned"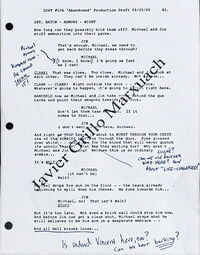 Damon Lindelof and Carlton Cuse have spoken about 'The Zombie Season', a theoretical seventh season where Lost has jumped the shark, and zombies are prominently featured. The careful unraveling of its dense mythology is key to Lost. Through this running joke the producers are acknowledging the fact that they can only keep this up for a finite number of seasons.
Transcript of Main Text
LOST #206 "Abandoned" Production Draft 09/25/05 42.
INT- HATCH – ARMORY – NIGHT
How long can they possibly hold them off? Michael and Jin stuff ammunition into their packs.
JIN
That's enough, Michael, we need to
get back before they break through!
MICHAEL
(I know! I know!) I'm going as fast
as I can!

CLANK! That was close. Too close. Michael and Jin look at each other. They can't be inside already. Not inside…
CLANK – CLANK! Right outside the door - - too late. Whatever's going to happen, it's going to happen right here.
HANDHELD now as Michael and Jin take cover behind the gun racks and point their weapons towards the door.
MICHAEL
Don't let them take my son. If it comes to that…
JIN
I don't want to die here, Michael.

And right as your heart is about to BURST THROUGH YOUR CHEST one of the ZOMBIES shuffles through the door. Eyes glossed over white - - desperate for the blood that will never quench it's unholy thirst. What are they waiting for? Why aren't Michael and Jin firing? Because this is no ordinary zombie…
It's WALT!!
MICHAEL
(it can't be)
Walt?

Michael drops his gun on the floor - - the tears already beginning to spill down his cheeks. He runs toward him…
JIN
Michael, no! That isn't Walt! STOP!

But it's too late. Not even a brick wall could stop him now. And before Jin can get a clean shot, Michael wraps what he still believes to be his son in a desperate embrace - -
And all Hell breaks loose…
Notes
See also