Real World article
(written from a Production point of view)

Jeffrey David "Jeff" Fahey plays Frank Lapidus.
Background
Appeared in the episode "When Irish Eyes are Crying" in the third season of the hit TV-series Miami Vice as an arms dealer who blows up Crockett's memorable Ferrari.
In 2007 we could see Fahey in the blockbuster movie Planet Terror as the charismatic restaurant owner J.T. The film also featured Naveen Andrews and was released in a double-bill as Grindhouse with the Quentin Tarantino film Death Proof, which featured fellow Season 4 newcomer Zoë Bell.
He also appears along with Cheech Marin in the Grindhouse's fake trailer of Machete. The Trailer later was expanded to a feature film (In which Michelle Rodriguez also appears), and is intended to be released on September 3, 2010.
Fahey starred in Psycho III alongside "Other" Diana Scarwid.
He's been an active actor for 26 years, and appeared in a number of TV-series; One Life to Live, Aventures dans le Grand Nord, The Marshal and Nash Bridges, which was created by Carlton Cuse.
His credits include over 70 films, mostly action.
When not busy acting, he travels to Kabul, Afghanistan, where he has been supporting an orphanage for several years.
Filmography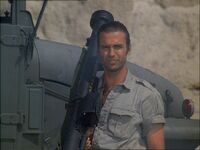 Feature films
Lawnmower Man
Grindhouse: Planet Terror
Machete
Television
Miami Vice , as Eddie Kaye,
CSI: Miami
Revolution
Media appearances
February 12, 2008 - E! Online [1]
Trivia
Fahey has been an active ballet dancer. [2]
He has 12 brothers and sisters.
Among his most prominent film roles is the title character in the cult film The Lawnmower Man which starred Pierce Brosnan. In it, Fahey plays a mentally handicapped landscaper named Jobe. Jobe acquires superior intelligence and becomes megalomaniac after a researcher (Brosnan) uses him as a test case for experiments with virtual reality. The research project is directed by a mysterious agency called The Shop. The movie, Hollywood's first-ever treatment of virtual reality, was purportedly based on a Stephen King story, although King successfully sued to have his name removed from the film.