Jean Higgins is a co-executive producer of Lost, and won a 2005 Emmy Award for Lost for Best Drama as a producer.
Higgins worked on Lost since its pilot episode. She was initially credited as a co-producer. She became line producer for the first season. She continued to serve as line producer for the second season. She was promoted to co-producer for the third season. She remained in this role through the sixth and final season.
Higgins and Jack Bender are the most senior producers who are resident in Hawaii during the production season of Lost; the rest of the producers and creative team are based in California at Walt Disney Studios.
Higgins has also worked as a line producer for CSI: Miami.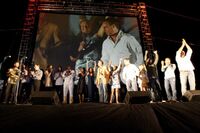 Higgins appeared twice at the Hawaii International Film Festival, once in 2006 on the Lost discussion panel along with Jorge Garcia, Michael Emerson, and Henry Ian Cusick, and in 2009 co-hosting a seminar with Jack Bender entitled "Master Class: "Producing and Directing a Hit Show". She also appeared at the 2006 Sunset on the Beach premiere of Season 3.

Featured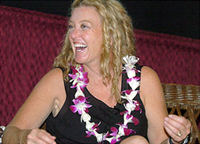 External links
This article is a stub
This crew-related article is short and lacking information. You can help Lostpedia by expanding it.