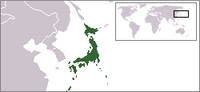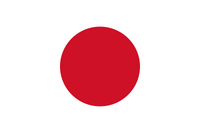 In Japan, the show is known by the roman letters and true name: 'LOST', as well as the phonetic transliteration ロスト. SKY PerfecTV!'s AXN network, and JNN's BS-i are broadcasters.
DVD
Links
Voice actors
See main article: Voice actors
The Japanese broadcast of Lost is dubbed by seiyuu (Japanese voice actors), many of them familiar voices from anime productions.
Episode names
Season 1
Season 2
Season 3
Season 4
Season 5
Season 6
Trivia
As many episode names are plays on English sayings, the episodes have been renamed, mostly into Japanese. A few have been renamed with unique English language titles, such as "

Born to Run

", which was renamed to Time Capsule: タイムカプセル. Curiously, Episode 1x02 "

Pilot, Part 2

" was renamed SOS, which is the original English name for Episode 2x19 "

S.O.S.

". Furthermore, the second half of Episode 3x22 is called The Beginning of the End.
Transliteration key
The following is the written form, in English and Japanese (in Katakana), of various terms and original cast members.
These kana representations are useful if for web searches of Lost-related topics in Japanese search engines such as Goo. In the section below, the roman and katakana representations will be exact representations of each other. Therefore, if only the first name is given in English, then the given kana represents only the first name as well. The dot character "・" represents a space between words, such as the space between the first and last names.
Cast and Crew
Character names

Miscellaneous translations
"Main Character" - メインキャラ (phonetically: "MainChara")
Year =年, Month =月, and Day =日. Hence October 20, 2004 = 2004年10月20日
Voice actor (seiyuu) = 声 and 声優
Music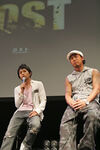 End credit theme songs

External links
Video
Japanese Season 2 end credits featuring Yuna Ito's losin'. The credits also list the dubbing voice actors for each character.


Japanese Season 3 end credits featuring Crystal Kay's "Lonely Girl"
Community content is available under
CC BY-NC-ND
unless otherwise noted.