Fanon
(Fan created content. Distinct from hoaxes and parodies)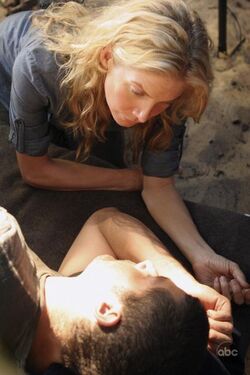 Jacket is the fan-given nickname to the romantic pairing between Jack and Juliet. It is part of the love quadrangle featuring Jack, Kate, Sawyer and Juliet. The other parts are known as Jate, Skate, and Suliet.
Timeline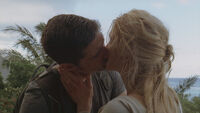 5x09 "

Namaste

" - Jack and Juliet reunite with a warm hug.
5x11 "

Whatever Happened, Happened

" - Juliet confronts Jack after he refuses to help her save young Ben.
5x13 "

Some Like It Hoth

" - Jack and Juliet have coffee while waiting for Sawyer to return home.
6x12 "

Everybody Loves Hugo

" - Jack confides to Hurley that ever since he got Juliet killed, all he wanted to do was to fix it.
6x17 "

The End

" - In the flash-sideways timeline, Jack and Juliet were once married, and they have a teenage son together.
See also
External links