Jack Bender is an executive producer and one of the primary "in-house" directors of Lost.
Contributions
Bender joined the first season production team as a co-executive producer from the episode "Tabula Rasa" onwards. Bender became an executive producer from the second season onwards.
A lifetime painter, he is responsible for creating the Hatch Mural, and Thomas' paintings, [1] as well as sculpting Annie's dolls in "The Man Behind the Curtain". ("Lost: On Location: The Man Behind the Curtain" on Lost: The Complete Third Season (DVD)) All his artwork, including paintings and sculptures, can be seen on his personal site, jackbenderart.com.
Directed episodes
Bender has directed the following episodes of Lost:
He also directed all of the Lost mobisodes.
Background
Bender is originally from Los Angeles, and studied at the USC School of Theatre. Before working as a director, Bender also worked briefly as an actor. His first directing was in local theater, and later John Houseman started him in his career in television directing. In particular he has directed on Ally McBeal and The Sopranos. [2]
Awards
Appearances
Trivia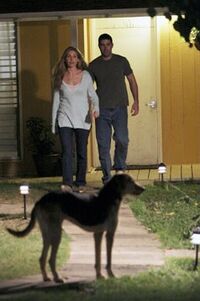 Bender also did some acting before he was directing episodes of Lost, The Sopranos, and Alias.
His daughter Sophie Owens-Bender briefly appeared as one of the few female Santa Rosa patients in the episode "

Dave

". (Source: Season 2 DVD episode commentary)
In 2006, he directed the opening splash reel for the 2006 Hawaii International Film Festival (HIFF). He chose Dann Seki to star as a Japanese tourist. Seki had previously worked with Bender in "

Numbers

". Other Lost crew credited with this production include Don King, Michael Rivero, Steven Semel, and Norman Kali. (Reference: Honolulu Advertiser (2006)) YouTube
Costume designer Roland Sanchez's dog "Lulu", short for "Ms. Honolulu", was originally adopted and taken care of by Bender.[3][4]
Bender directed a film entitled The Tempest. Not only is this the name of a Dharma station, it is also the name of a play by William Shakespeare about a mysterious island with magical properties.
His artwork was featured at the Meltdown Lost event in 2008.
See also
External links