"I Do" is the sixth episode of Season 3 of Lost and the fifty-fifth produced hour of the series as a whole. It was originally broadcast on November 8, 2006, and was the last of a six-episode "mini-season" before a thirteen week hiatus. As Jack considers whether or not to treat Ben, he is motivated by Kate's claims that if he does not comply, Pickett will kill Sawyer.
Synopsis
Previously on Lost
Flashback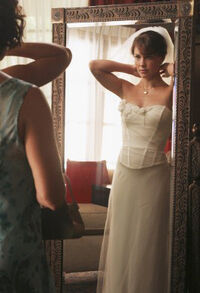 Kate walks into a hotel room and opens a box containing a veil. ♪ A police officer at the door demands to be let in. However, instead of a confrontation, the two begin to kiss and make love as they move inside the room. The man is Kevin Callis, and tomorrow Kate and he will get married. He calls her Monica.
Later, as Kate dresses for the wedding ceremony, Suzanne Callis, Kevin's mom, gives her a locket passed down through the family. She explains that her own mother had given it to her on her wedding day, saying that one day she could give it to her daughter when she married. Since she has only four sons, she is giving the locket to her soon-to-be daughter-in-law. Kate tries it on and says that it's "perfect." ♪ Kevin and Kate marry after the priest speaks of Kate's honesty.
Settling into a life of domestic bliss, Kate calls Edward Mars to plead for the US Marshal to stop chasing her. Mars guesses that Kate has got involved with a man, and tells her that he will stop chasing when she stops running. But then Mars tells Kate they "both of us know that isn't going to happen." Kate hangs up to avoid a phone trace.
Kate realizes that she cannot possibly live the daydream of a happy-ever-after marriage: her past will catch up with her, and she is doomed to a life on the run. When Kevin surprises her with honeymoon tickets, and she believes that she might be pregnant (though the test turns out to be negative), she panics about constantly living a life of secrecy with her husband. Kevin is doing a paper on a certain "Tampa Job" that happened previously. She confesses the whole truth about herself, having first drugged Kevin to prevent other people suspecting he knew her real identity. As soon as her husband passes out, Kate puts the locket that his mother had given her in his hand, and goes on the run again. ♪
On the Island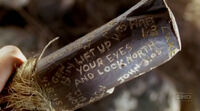 Locke tells Nikki and Paulo that Eko must have been killed by an animal, probably the polar bear. He decides they will bury Eko where he died, instead of taking him back to the beach camp because the other survivors have seen too many funerals recently. When Locke sets off to fetch shovels from the beach camp, Sayid insists on going with him.
Along the way, Sayid asks Locke what really killed Eko. Locke says he does not have a name for the "Monster", and that he believes Eko died for a reason, but he does not know it yet. Because Sayid realizes they are not heading to the beach, Locke explains that they are making a detour.
Locke gives a brief eulogy at Eko's makeshift grave funeral and as he plant's Eko's stick he sees the quotation engraved on it: GEN 13:14 "LIFT UP YOUR EYES AND LOOK NORTH", with JOHN 3:05.
On Hydra Island
Kate is awakened by the "Warning!" alarm from Sawyer's cage. Sawyer, who is throwing rocks, does not seem in a good mood.
Jack is shown Ben's medical tests. Jack's prognosis is that Ben's death is certain without surgery done "yesterday." Ben assents to immediate surgery, but Jack scoffs and explains that he's not going to do it - because he doesn't trust the Others to keep their end of the bargain to free Jack, Kate and Sawyer. He shouts angrily at Juliet. Ben says he is disappointed in Jack's decision, but with a wry smile on his face, Jack replies "At least you won't have to be disappointed for very long." ♪
Meanwhile, Danny explains to Kate that it is time for work, and Sawyer is "getting a day off." Kate says that she and Sawyer are a team, and that she won't work without him. Danny and Sawyer reluctantly agree, and they go to the runway quarry.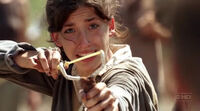 During their shift at the quarry an (apparently automated) alarm announces a 'compound breach.' Pickett orders guards to immobilize Sawyer and Kate, then exchanges information by walkie-talkie just as Alex charges in, using a slingshot to fire stones at the guards, and urging Kate and Sawyer to flee. Danny Pickett and Alex standoff, Danny pointing his gun at Alex, and Alex aiming her slingshot. ♪ Alex dares Danny to shoot her, shouting "Where is he? What did you do to him?" and demands to speak to Ben. Danny stalls, and Alex is grabbed by another guard. As Alex is dragged away she warns Kate, "Whatever they tell you, don't believe them! They're going to kill your boyfriend, just like they killed mine!"
Juliet arrives and confers with Pickett before politely asking Kate to put on a burlap sack hood. Juliet tells Pickett aside that "our schedule has been moved up 2 weeks" while Pickett replies "that's stupid" and Juliet confirms that "they .... called, it's just the way it is, Danny." Kate refuses the hood at first, but gives in after Juliet says it's the only way to prevent Pickett from killing Sawyer. ♪ Juliet brings Kate in to the aquarium to see Jack. Jack smiles when he sees her, but they are separated by the glass wall of his cell in the Hydra. Juliet leaves them in privacy, though Jack is conscious of the cameras. Ben watches Kate and Jack on the monitors.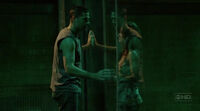 Jack and Kate ask if each other are okay, and Jack asks after Sawyer. Kate explains that they're being kept in outdoor cages and made to haul rocks for "something big." When Jack asks if Kate has been hurt, Kate starts to cry. Jack begins to reassure her that things will be OK, but Kate blurts out that he has to do the operation.
Startled, Jack glances at the spy camera, and then asks how the Others have persuaded Kate to urge him to do the surgery - what they offered her, what they did to her to manipulate her. Kate replies, "Nothing," Jack demands, "Then what are you doing here?" Unable to contain her emotions, Kate answers that they've threatened to kill Sawyer.
Jack looks up at the camera before turning away in frustration and anger. Kate apologizes and insists that "she" (Juliet) promised that they would let them go if Jack did the operation soon. Jack asks Kate, rhetorically, "And you believe them?" to which Kate answers, "I have to."
Kate tries to plead with Jack, but he tells her, "We're done here." Kate pursues the point, but Jack looks up at the camera and says (to Ben), "Hey! We're done here!" then turns away from Kate. In the monitoring room, Ben, troubled, tells Juliet angrily to take Kate away.
Kate is returned by Juliet to her cage. Sawyer is violently returned to his cage by Danny. ♪ Kate then tells Sawyer that she saw Jack, and that he is being ordered to perform an operation on Ben. Sawyer asks, "Who's Ben?" Kate explains, "Henry - the man who brought us here." She becomes increasingly desperate at the idea of Pickett killing Sawyer - pointing out that he's been looking for a reason to do so - and climbs out of her cage. As Sawyer pleads with her to climb back in, she breaks off the lock to his cage and tells him to run. When Sawyer refuses to escape, Kate demands to know why, and he tells her they are on a separate island, about two miles off shore from their island, "so unless you're a mermaid, or you've got a boat," there is nowhere for them to go. She is angry that he hasn't told her this sooner, to which he explains he wanted her to have some hope, that they would "have a damn chance."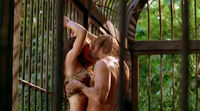 At this, she kisses him. When he asks why, she responds tenderly, "I don't know" and he kisses her back; soon they are removing each others' clothes and making love. ♪ Later that night, in each others' arms, Sawyer asks if she only said she loved him to get Pickett to stop beating him. She says nothing in reply, but sits up and kisses him, then cuddles back into his arms. He smiles and says, "I love you too." ♪
Meanwhile, Jack is lying on the table in his room when he hears static from the intercom. He approaches it and speaks into it, trying to get a response. A female voice says, "Try it. The door." He finds the door is unlocked and explores the hallways, venturing inside the room with the closed circuit TV monitors and a cupboard full of guns.
He takes a handgun, checks to see that it is loaded, and begins to leave when he notices one of the monitors: Kate and Sawyer are cuddling post-coitus. He looks down, hurt. However, Ben walks in on him, and Jack holds him at gunpoint. Ben expresses his surprise about Kate and Sawyer, stating that "If I were a betting man, I would have picked her and you." Jack becomes angrier, but instead of refusing further to do surgery on Ben, Jack agrees. He tells Ben that when he's done, he needs to get "the hell off this island."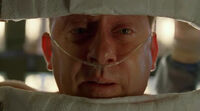 Juliet anesthetizes Ben and Jack begins the operation. Danny, in the observation room, leaves Tom, and goes with another man to Sawyer's cage. "Shephard wasn't on Jacob's list" he says. It is raining, and Kate wakes Sawyer up. He orders Sawyer to come with him, although Kate, knowing that Danny is going to kill him, refuses. ♪ During the operation, Jack purposely cuts a small incision in Ben's kidney sac, and then knocks out the other man in the room, leaving Juliet, Jack and Ben in the operating room. He orders Juliet to back away from the table. Tom is shocked. Jack tells him that Ben has an hour to live, and demands the walkie-talkie so he can speak to Kate.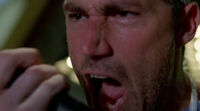 Sawyer hits the man accompanying Danny and tries to steal Danny's gun, but the other man holds Kate at gunpoint, Sawyer is forced to let go despite Kate telling him to fight. Pickett takes Sawyer outside the cage and puts him on his knees about to shoot him in front of Kate. Sawyer is ready to die. As Pickett is about to shoot, Tom's call on the walkie comes through ordering him to give the walkie to Kate or else the "doctor's gonna kill Ben." Danny reluctantly gives Kate the walkie-talkie. Jack tells Kate she has an hour head start, and asks her if she remembers the story he told her on the beach the day of the crash. Kate says she remembers. Jack directs her to call him on the radio when she is safe and to tell him the story. Kate is distressed and hesitates, looking from Sawyer to the walkie and says, "I can't leave without you!" Jack responds by yelling "Kate, dammit, RUN!" ♪♪

Trivia
Kate mentioned in "

The Whole Truth

" that she once took a pregnancy test.
The two-way radios (walkies) used by the Others are Motorola CP100s. These are 2W power UHF or VHF radios. The power is allowing speaking distance of about three to four miles in open terrain. However, the jungle and the concrete building of the Hydra station will shorten the range significantly.
Jacob's name is mentioned for the first time in the show during this episode.
After Jack agrees to do the operation on Ben, he tells Ben that he needs "to get the hell off this island." Jack doesn't know he's on a different island.
This episode is rated TV-14-SV.
Production notes
Bloopers and continuity errors
When Kate says she and Sawyer are a team, explaining that he breaks the rocks and she hauls them, that's actually the reverse of the jobs they were given in "

The Glass Ballerina

".
When Kate is talking to Agent Mars in the telephone booth, her clothes and hair repeatedly switch from being soaking wet to perfectly dry.
During Ben's surgery, Jack asks for a Hemostat. He is actually handed a Carmalt. A Hemostat is much smaller.
Music
The Season 3 soundtrack includes two cues from this episode. "Romancing the Cage" offers a statement of Kate and Sawyer's theme. "Under the Knife", the closing music, includes Ben's surgery motif.
Analysis
Recurring themes
Cultural references
Literary techniques
Storyline analysis
Episode connections
Episode references
Episode allusions
External links