"Hurley's Theme" is an orchestral piece that accompanies several scenes centering on Hurley. It features ascending pitched percussion or piano beneath a playful, four-note melody, often on the harmonica. The first two chords are sometimes heard alone, typically in the higher strings, with a glissando between them.
Main appearance
Hurley has been eating chicken in front of the television to his mother's scorn. He flips to the lottery results, where an announcer reads off the final number - 42. Hurley realizes he has won the lottery.
Full list of appearances
Hurley's Theme and its variations appear in the following scenes: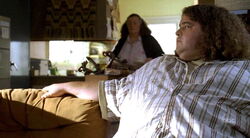 Variations
"Act Now, Regret Later", "Fetch Your Arm", "Get Out Of Jail Free Card", "Hugo Reyes of Light", "I've Got a Plane to Catch", "The Stick With Me Speech" and "World's Worst Landscaping" contain variations on "Hurley's Theme".