This article has been marked for merging
It has been suggested that this article be merged with websites - Discuss
Type of website
Video on demand
Hulu is an online video distribution service that shows episodes and other Lost related content.
History
Hulu was launched in March 2008 after a year of planning and beta testing. Initially, Hulu only had NBC and FOX content.
Disney
, the parent company of the
ABC
network, bought an 27% stake in Hulu in April 2009 and Lost began to appear on Hulu that summer. (
[1]
) (
[2]
)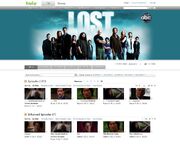 Availability of Lost
As of February 27, 2010, all 106 episodes of Lost are available on Hulu. All Season 5 and Season 6 enhanced episodes are available as well as over 100 "clips" and the recap shows Lost: A Journey in Time, Lost: The Story of the Oceanic 6 and Lost: Final Chapter. The "clips" include video podcasts, Mysteries of the Universe (select episodes posted early), "Lost Untangled" episodes, as well as episode recaps and excerpts. Revenue is by commercial breaks on episodes, but the time dedicated to ads is much less than in traditional broadcast television, one commercial per commercial break as opposed to 1/3 of the hour being commercials.
Technology
Hulu supported 720p HD, but Lost was not available in HD, and now HDTV has been removed.
Through various official and non-official products, it is possible to watch Hulu on your TV.
Hulu is only available in the United States, due to licensing reasons. Hulu has been planned for a launch in the UK, but the launch has been repeatedly delayed.
External links
See Also
Community content is available under
CC BY-NC-ND
unless otherwise noted.