Henry Ian Cusick is a Scottish actor who portrayed Desmond Hume, beginning in the second season.
Background and personal life
Cusick was born in Peru to a Peruvian mother and Scottish father. His family lived in Trujillo for two years before traveling back to Europe to live in Spain and Scotland. Soon afterward, they moved to Trinidad and Tobago, where Cusick lived until he was 15 years old, attending Presentation College. At 15, Cusick returned to Scotland, where he attended the Royal Scottish Academy of Music and Drama in Glasgow and then joined the Citizens' Theatre after being asked to leave the academy due to attendance issues.
After 14 years of cohabitation, Cusick married Annie Wood in June 2006, with whom he has three children: Elias, Lucas and Esau.
In April 2007, Cusick was accused of harassment and sexual battery by Chelsea Stone, a former employee of ABC. Stone claimed that Cusick groped her and made inappropriate sounds and gestures in October 2007 while on the Lost set. ABC and Grass Skirt Productions were also named as defendants because Stone alleged they did nothing to keep her away from Cusick after she complained. Stone, who is seeking unspecified damages, was fired on October 28, 2007. [1]
In October 2009. Cusick, ABC and Grass Skirt Productions agreed to pay Chelsea Stone a settlement, and refused to give a statement about what happened.[2]
Career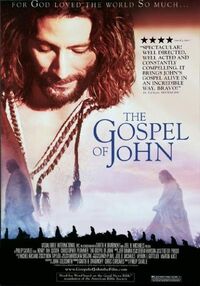 Cusick portraying Jesus.
Cusick traveled with many theatre troups, performing many plays, such as the title role in The Picture of Dorian Grey. He later began taking roles in film and television, including a recurring role in both The Book Group and Casualty. He then portrayed Jesus in the 2003 The Gospel of John. He played Theo Stoller on the fifth season of 24 and played Udre Belicoff in the film adaptation of the popular video game Hitman. Most recently he played Charles Darwin in the TV movie Darwin's Darkest Hour.
On Lost
While staying in Los Angeles with Scottish actor Brian Cox, a personal friend, Cusick met Carlton Cuse, an executive producer and writer on the show, who was Brian Cox's neighbor. Later, he auditioned for the part of Desmond in London, sending in his audition tape to LA. After Cusick accepted the role, Cuse saw that scripts were being sent to an address next door to his own home. It was then that Cuse remembered meeting Cusick in Cox's driveway several months earlier. Cusick, after three guest-starring episodes during season two, became a series regular at the beginning of the third season. Cusick was nominated for "Outstanding Guest Actor In A Drama Series" at the 2006 Emmys for his performance as Desmond in the episode "Live Together, Die Alone, Part 1".
Selected filmography
| Title | Medium | Character | Year(s) |
| --- | --- | --- | --- |
| The 100 | Television series | Marcus Kane | 2014-2018 |
| Scandal | Television series | Stephen Finch | 2012-2015 |
| Dead Like Me | Movie | Cameron Kane | 2009 |
| Hitman | Movie | Udre Belicoff | 2007 |
| 9/Tenths | Movie | William | 2006 |
| Half Light | Movie | Brian | 2006 |
| 24 | Television series | Theo Stoller (2 episodes) | 2006 |
| Lost | Television series | Desmond Hume | 2005 - 2010 |
| The Gospel of John | Movie | Jesus | 2003 |
| Taggart | Television series | Ian Gowrie | 1993 |
Trivia
Supports the Scottish Premier League team Dundee United.
Goes by the name "Ian".
Speaks fluent Spanish.
He still lives in Hawaii and commutes to Los Angeles for other work, such as his role on Scandal and The 100. He moved his wife and three sons to Hawaii while filming Lost, a role he thought would last for about a year, but fell in love with it as it reminded him of growing up in Trinidad.[3][4]
Hates to fly.
Shares a birthday with fellow co-stars L. Scott Caldwell and William Mapother.
Said in an interview that if he couldn't play the role of Desmond, he would have liked to have played Ben Linus or John Locke.
Once had a job delivering water, which was "stressful" as he would always get lost.
A rumor was spread on the IMDB message boards that Lost producer Ra'uf Glasgow was an alias used by Cusick, and that it was chosen because it sounded like the Scottish pronunciation of the question, "Are you from Glasgow?"
Portraying Desmond Hume was the first time he was able to use his Scottish accent as an actor. However, Cusick's own accent is not as strong as the heavy Glaswegian accent he used to portray Desmond and reflects his diverse background growing up in Peru and Trinidad, and didn't move to Scotland until he was 15.[5]
References
External links
Community content is available under
CC BY-NC-ND
unless otherwise noted.