Theories may be removed if ... 
Stated as questions or possibilities (avoid question marks, "Maybe", "I think", etc).
More appropriate for another article.
Illogical or previously disproven.
Proven by canon source, and moved to main article.
Speculative and lacking any evidence to support arguments.
Responding to another theory (use discussion page instead).
This does not include responses that can stand alone as its own theory.
Usage of an indented bullet does not imply the statement is a response.
See the Lostpedia theory policy for more details.
Naomi's helicopter, general
The sound was the helicopter used for Periodic Resupply Drop (P.R.D.), as seen in the Sri Lanka Video.

Every time a helicopter is shown in a TV show, the sound used is that for a Bell UH-1 Huey, regardless of whether the chopper is a Huey or not. Therefore it is probably unwise to deduce the model of the helicopter only from this commonly-used movie sound.
Naomi's helicopter crash
Cause
Effects of the Island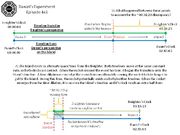 Because time is different on the Island from the real world, the helicopter seems to have vanished.
When Desmond tried to leave the Island, he sailed around in circles for weeks, because he had no idea of any special bearing he was supposed to follow. If Frank turns from the correct bearing, he will end up flying around in circles until he ends up back on the Island. The reason the helicopter hasn't arrived is because it's still in the Snowglobe.

This isn't likely because the helicopter was very low on fuel. If they were to have been circling around, they probably would've had a nice crash landing in the water.
The same effect that caused the rocket to be delayed by ~31 minutes could also cause the helicopter to take longer to get back. The heading appears to be critical to pass through the specific spot toget to/from the Island (referred to as the event horizon in the diagram to the right) This points towards an anomaly w/ a specific point in space, like a wormhole, vrs. a bubble or "snow globe" effect which is 360 degrees around the Island. From the next episode's trailer, it looks as if there's a storm where the event horizon is located which obviously scares Sayid & Desmond. It's hard to tell if they continue through or it made them turn around. There's a brief shot that looks like Desmond attacking Daniel and shouting "I could have been killed!", which would indicate they turned around. They may have crossed the event horizon, got freaked out, then turned back. This could cause them to "lose time" as they were briefly across the event horizon and subjected to the time dilation effects.
Community content is available under
CC BY-NC-ND
unless otherwise noted.