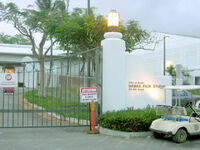 Hawaii Film Studio, also informally known as Diamond Head Studio or Diamond Head Stage, is a set and soundstage operated by the Hawaii Film Office, and has been used for filming many Lost episodes. It is currently the home of Grass Skirt Productions, the production company for Lost, which essentially leases the property in its entirety. The film studio is named after Diamond Head Crater, as it is located adjacent to its slopes.
The other major indoor studio used on Lost is the Old Xerox Building. It is located on 18th Ave., next to Kapiolani Community College. The studio was used by the television series Hawaii Five-O and Magnum, P.I.. The studio also appears multiple times in the DVD extra "Lost in a Day" on the Lost: The Complete Third Season (DVD).
The studio features a 16,500 sq. ft air-conditioned soundstage built in 1994, as well as a 94,000-gallon filming tank and various production facilities. Although the water tank has been for many years inoperable and in need of renovations, there were rumors that Lost was considering making these renovations. The entrance driveway is on 18th Avenue between Diamondhead Road and Kilauea Ave., directly across from the street from the entrance to a cemetery. Contact information is listed as Sharon Clark, (808) 586-2570, fax (808) 586-2572.
The mailing address is:
510 18th Ave.
Honolulu HI 96816
USA
This mailing address may also be used for Lost fan mail, c/o Lost or c/o Grass Skirt Productions.
External links