A Zero Halliburton-type aluminum suitcase was brought on the plane by the U.S. Marshal, Edward Mars. The case contained weapons (four pistols), boxes of ammunition, documents, and a keepsake of Kate's, her toy plane.
Specifically the case is a Zero Halliburton 5" Premier Silver Attaché P5-SI. Its exterior shell is made of aluminum and has a silver finish. The overall dimensions are 13" x 18" x 5.3", and the case weighs 9 lbs. The P5-SI also sports a leather interior, interior file compartments and pockets, and is secured by a 3-digit combination lock. The case comes with a lifetime warranty, and the approximate suggested retail price is $570 USD.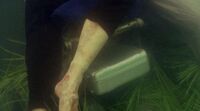 The case was found by Kate and Sawyer in a pond at the waterfall under some seats in "Whatever the Case May Be". In "Exodus, Part 1" the Marshal was told it would be stowed in the luggage case in the crew cabin. It is not known how it ended up under a passenger seat. Advised to by Michael, Sawyer attempted to force the case open by smashing it into objects and dropping it. Hurley mocked Sawyer's attempts, saying that it was common knowledge Halliburton cases couldn't be opened forcibly. Jack later negotiated the case out of Sawyer's possession after finding out what the case contained. Jack kept possession of the case and key which he kept around his neck. This served as their gun storage for the first season.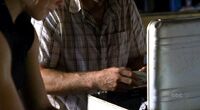 After the Swan was found, weapons were stored in the gun vault until Sawyer stole them. The key led Jack to believe there was some magnetic force in the Swan because of its movement. Its current status is unknown as it was last seen inside The Swan a day or two before the station's destruction.
In the flash-sideways, the Marshal took the case off of the plane. ("LA X, Part 1") He was also seen carrying it at LAX. ("LA X, Part 2")
Trivia
Zero Halliburton case on Wikipedia
Richard Halliburton was a bold adventurer who disappeared while manning a junk in the South Pacific Ocean.
Producers stated after season one that they used creative ways of putting their sponsors' commercial products into the show . This is probably one of those .