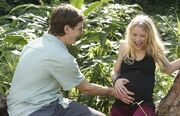 Several characters talk of "good people" and "bad people" in the show. It is not yet known what is meant by this, or who qualifies as "good" or "bad" in their eyes.
Occurrences
The following characters have been called good and/or bad by other characters. Only direct references are included below.
Details are listed below, sorted by episode.
Good
Season 1
Season 2
Season 3
Bad
Season 1
Season 2
Season 3
See also