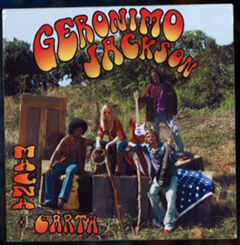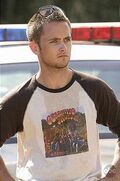 Geronimo Jackson is a 1970s band. Little is known about the group, but references to the band have been made on Lost once per season, starting in Season 2.
On Lost
Charlie and Hurley found the Geronimo Jackson album Magna Carta in the Swan's collection of LPs. Charlie, as an expert in "all things musical", said that he had never heard of them. (Neither had Sayid.) ("

The Hunting Party

") Locke later noticed the Magna Carta record while flipping through various albums. ("

The Whole Truth

")
Undercover police officer Eddie wore a T-shirt with the Magna Carta album cover picture silkscreened on the front. He claimed it to be one of his "dad's old shirts". Commune leader Mike remarked that Eddie's dad had "excellent taste". ("

Further Instructions

")
A Geronimo Jackson poster adorned the inside door of the locker that 16-year old John Locke was locked in. ("

Cabin Fever

")
In podcasts
In The Lost Experience
On the Season 2 DVD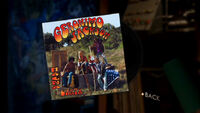 An Easter egg on disc four of the Season 2 DVD features a short video clip of supervising producers Edward Kitsis and Adam Horowitz elaborating on the band's back story. They claim it was the brainchild of Keith Strutter, a Kentuckian who ran away from home in the 1960s and wound up in San Francisco. The band's first gigs were at burlesque shows, working their way up to play clubs like the Avalon and the Filmore. They never headlined, but put out one album, Magna Carta, which has been out of print for some time. Kitsis claims that the band disappeared into obscurity in Woodstock, NY in 1971. It was put into Lost as a tribute to an under-appreciated band.
Trivia
On January 19, 2006, a fan-made website appeared at www.geronimo-jackson.com. It was removed after a few months.
The album title Magna Carta is an anagram of "anagram act".
Charlie's middle name, Hieronymus, means "sacred name" in Ancient Greek, and is a variant of the name "Geronimo".
Geronimo was a famous Apache leader and medicine man.
A group named Magna Carta was founded in 1969.
The Magna Carta (1215) is widely viewed as one of the most important legal documents in the history of democracy.
There is a record label Magna Carta Records.
There is a band from the 1970s called Geronimo Black, who produced one album. The third track of this album was entitled "Other Man".
External links
Community content is available under
CC BY-NC-ND
unless otherwise noted.