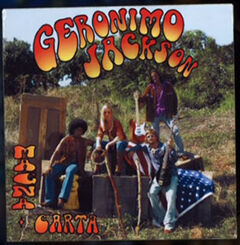 Geronimo Jackson is a band whose album is found in the Swan's music library by Charlie and Hurley . Charlie, as an expert in "all things musical", says that he has never heard of them. ("The Hunting Party")
The album makes a reappearance ("The Whole Truth") during a scene near the episode's beginning, in which Locke is seen flipping through various albums.
Undercover police officer Eddie (from Locke's flashback) wears a T-shirt with the Magna Carta album pictured on the front. He claims it is one of his "dad's old shirts". ("Further Instructions")
In Podcasts
In The Lost Experience
On the Season 2 DVD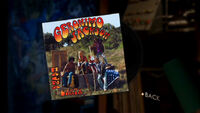 An easter egg on Disc 4 of the Season 2 DVD features a short video clip of supervising producers Edward Kitsis and Adam Horowitz elaborating on the band's backstory. They claim it was the brainchild of Keith Strutter, a Kentuckyan who ran away from home in the 1960s and wound up in San Francisco. The band's first gigs were at burlesque shows, working their way up to play clubs like the Avalon and the Filmore. They never headlined, but put out one album - Magna Carta - which has been out of print for some time. Kitsis claims that the band disappeared into obscurity in Woodstock, NY in 1971. It was put into Lost as a tribute to an under-appreciated band.
Trivia
On January 19th 2006 a fanmade website appeared at www.geronimo-jackson.com. It was removed after a few months.
The album title Magna Carta anagrams to "Anagram act."
Charlie's middle name is "Hieronymus", a foreign variant of the name "Geronimo".
External links
Community content is available under
CC BY-NC-ND
unless otherwise noted.