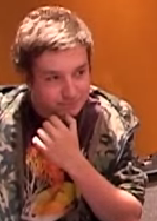 Geeky Tom in a promotional video for Sky One.
Geeky Tom is a podcaster for the official UK podcast The Lost Initiative, along with co-hosts Paul Terry and Iain Lee. Geeky Tom was also a guest podcaster in the original UK Lost podcast, prior to the show's switch from Channel 4 to Sky One. Like Geeky Tom, many of the people involved in the original podcast are now involved in the one featured through Sky One.
As part of the Lost Initiative podcast, Geeky Tom interviewed Damon Lindelof, and asked him to refute Iain Lee's favorite "super brain computer" theory. Geeky Tom also interviewed actor Adewale Akinnuoye-Agbaje during his time with the UK Lost Podcast.
Geeky Tom's real surname was officially revealed as Page in issue 29 of Lost: The Official Magazine in a feature on the UK's coverage of season 6. Before this his name had only been presumed as his WyvernHawk blog contains a link to another blog (called Proof He's Not A Geek) which contains Tom's posts from WyvernHawk and at the top of this page the name stated is Tom Page.
Trivia
Geeky Tom "received a restraining order" from Lee after the "

Par Avion

" podcast, and was then notably absent in the "

The Man from Tallahassee

" podcast. He did, however, phone in explaining that he hadn't actually seen the episode yet. Out of spite, Lee told him that Jin had died. Geeky Tom then hung up.
Tom stated on his blog that he couldn't make the "

The Shape of Things to Come

" podcast, but joined in via cell phone instead. During the podcast he threw a bit of a strop and hung up.
He was also not present for the "

Something Nice Back Home

" podcast, and Iain Lee rang him up to check and it appeared he was pulling a sickie because of Grand Theft Auto IV. In revenge for last week, Iain hung up on him.
External links
Community content is available under
CC BY-NC-ND
unless otherwise noted.