Gannon Car Rentals is a company whose advertising logo appears on the back of Oceanic flight tickets. The fictional company has appeared in several other TV shows as well. According to Carlton Cuse and Heroes producer Tim Kring, this connection represents no crossover. Rather, the company appears repeatedly in media because its has been cleared with studio legal departments.[1]
Appearances in Lost
The logo appeared in the following episodes: and possible crossover to NBC's serial drama Heroes, in episodes:
Appearances in other shows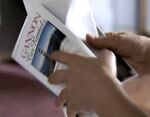 Gannon Car Rentals was also visible several times on NBC's serial drama Heroes. A Gannon pamphlet appeared:
given by Kaito Nakamura's assistant to Hiro Nakamura and Ando Masahashi (episode 1x13 "The Fix").
sent by Mr. Linderman to Jessica Sanders (episode 1x15, "Run!").
stolen by Claire Bennet from the Haitian at a Texas airport and then tossed in a garbage can (episode 1x18 "Parasite").
held by Matt Parkman (portrayed by Greg Grunberg) at the Burnt Toast Diner (episode 1x19, ".07%").
Though this represented no true crossover between the shows, Heroes producer Tim Kring said that he and Damon Lindelof had talked of ways the shows could share a mythology.
"We've talked a lot [in general] about how two shows could dovetail," said Kring in a 2007 Entertainment Weekly interview. "But again, we are limited by the fact that we are on competing networks."[2]
Other shows have also featured the company:
There was also a Gannon Car Rentals in Julia McNamara's hands (in Nip/Tuck) at the end of Season 4 Episode 11.
In the season 4 opener of Glee, Kurt Hummel holds a Gannon Car Rentals pamphlet on his way to New York City.
See also
External links
References