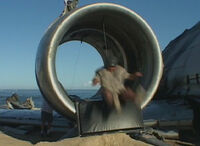 Frank Torres played the role of the Turbine Man, the passenger who was sucked into the engine in "Pilot, Part 1", and was later identified by Damon Lindelof as Gary Troup.

Background
Professional stunt man and a stunt coordinator. Worked in movies since 1985.
Some productions he worked in are The Mask, From Dusk Till Dawn, The Rock, Con Air, Armageddon, American History X, Swordfish, Tenacious D: The Pick of Destiny, Minority Report, and X-Men 2.
He is also the stunt coordinator for LOST.
Trivia
External links