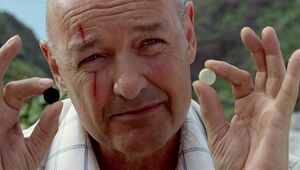 Locke referenced a competition between competing sides - "one is light, one is dark" - years before Jacob and the Man in Black's rivalry was revealed.
Foreshadowing is where a writer drops subtle hints about plot developments to come later in the story. Unlike a flash-forward, a foreshadowing only hints at a possible outcome of the story, without describing it explicitly. A hint designed to mislead the audience is referred to as a red herring.
Foreshadowing was used a lot in Lost. Many events of later seasons of the show were planned out in the beginning, and as such, many clues or hints were dropped, even at the beginning of the show, foreshadowing the revelations soon to come.
Season 1
Season 2
Season 3
Season 4
Season 5
Season 6
Community content is available under
CC BY-NC-ND
unless otherwise noted.