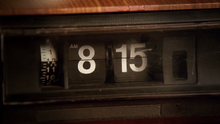 Originally broadcast on January 21, 2009, Lost Season 5 Episode 1 - "Because You Left" began with a close up on a flip clock flipping from 8:14 to 8:15 am. The episode is set in 1977 on the island and soon we realize that this flip alarm clock had awoken Dr. Pierre Chang and his wife in their home in the Barracks.
Dr. Chang was a DHARMA Initiative theoretical astrophysicist who appeared in orientation films for different stations on the Island. Chang was married to Lara and was the father of Miles Straume. In the making of the orientation films, he tried to obscure his identity for safety, using different pseudonyms, including Dr. Marvin Candle, Dr. Mark Wickmund, and Dr. Edgar Halliwax.
And apparently, he also liked to keep the identify of his personal flip clock hidden.
The clock appeared for only about 12 seconds. Viewing a screen capture of a close up, reveals several problems with the flip clock. Firstly, the clock is set to alarm at 12 am but goes off at 8:15. The alarm indicator arrow is missing, the clock has a empty hole on the right side of the digits that should have a spinning wheel visible. Additionally, the metal plate under the digits bearing the make and model of the clock has been obscured by black masking tape. To top it off, the entire clock is cover in wood grain contact paper.
The identity of the clock was first revealed by the flip clock fan forum, FlipClockFans.com. On their YouTube channel there is a video detailing the identifying marks on the clock and clearly shows the clock to be the Sony Digimatic TFM-650W FM / AM Digital Clock Radio, or, what is referred to now as a flip clock radio alarm.
Community content is available under
CC BY-NC-ND
unless otherwise noted.