Billboard vandalism
Many of the billboards located in the nine Oceanic destination cities have been found to be "vandalized" with "Find815.com" spray painted in large lettering across them. The five vandalized billboards found were in Miami, Knoxville, Portland, Ames, and Tustin.
Update - by January 10, all of the billboards in the nine cities were found to be "vandalized".
Website downtime
Chapter 2 was announced as beginning Monday, January 7, 2008 at 9:00PM Eastern. As of the starting time of Chapter 2, Find815.com was down, and most people had trouble accessing the website. The following text was shown at the site as of 10:30PM EST:

"

Forbidden


You don't have permission to access /site/index.php on this server.


Additionally, a 403 Forbidden error was encountered while trying to use an ErrorDocument to handle the request.
Apache/2.0.52 (CentOS) Server at www.find815.com Port 80

"
By about 1:00 AM EST, the site was back up and running with the Chapter 2 content.
Video - recap
There is a recap video summarizing Sam's journey up to this point.
Transcript
| | | |
| --- | --- | --- |
| " | My name is Sam Thomas and up until a few days ago I worked for Oceanic Airlines. My partner Sonya also worked for Oceanic. Sonya was on board Flight 815. Tomorrow I'm flying to Jakarta. I'm going to hitch a ride aboard a salvage boat called the Christiane I, and I'm doing this because I received a coded message in a photograph from a group called Maxwell. I've had enough of waiting until it's too late. | " |
Video - aboard the Christiane I
Transcript
"

[Sam is in a motor boat]
SAM: I dunno. Life's thrown me a few surprises lately. So I guess I'm just taking a break from it all.
[In the Christiane I]
OCKHAM: Look it's an expedition, it's not a getaway for cash strapped tourists.
SAM: Well you wouldn't have to pay me. You just feed me and I'll sling a hammock on the deck.
OCKHAM: No. Look, I told you on the phone, we're crewed up. We'll be at sea for months so every gram of cargo is here for a specific purpose. I can't afford dead weight. [chart plotter breaks] Owen! Get Sukarno on the phone will ya. And tell him his shoddy handy work is going to cost me two days if he doesn't hurry up.
TALBOT: What is it?
OCKHAM: I'm afraid, Mr. Talbot, we won't be leaving today.
TALBOT: That, Mr. Ockham, is unacceptable. We're already a day over schedule. My employer's requirements were made quite clear...
OCKHAM: Your employer's requirements were made at short notice. And, quite frankly, installing their 'special' requirements takes time.
SAM: It's a chart plotter right? I'd say it's just the SPU board.
OCKHAM: Do you know how to fix it?
SAM: Fix it? I could probably build you a new one from scratch.
OCKHAM: Sukarno's ringing back in three minutes. You beat him to it, you got your hammock.


"
Activity - fix the chart plotter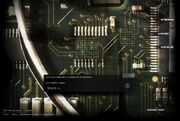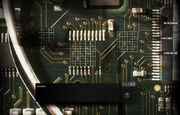 The player must solve a game to advance the story. The instructions are:
"

If Sam wants to join the Christiane I he must fix the Chart Plotter before Sukarno calls back.

Instructions:
There are three sections of the chart plotter to repair.

The circuit lines of each section have been scrambled.

Each circuit line must connect to another line or a terminator.

You can turn each circuit line by clicking on it.

When all the circuit lines in a grid are correctly aligned the grid locks.

HINT - start on the smallest grid until you get the hang of it.

You have 3 minutes to re-align all the sections.

"
Video - chart plotter not fixed
If players fail to fix the chart plotter, Ockham tells Sukarno on the phone that he needs an expert to fix it.
Transcript
| | | |
| --- | --- | --- |
| " | OCKHAM: Nice work. You had me fooled. [phone rings] Sukarno my friend. Look, I need an expert. | " |
Video - chart plotter fixed
If players fix the chart plotter in time, Ockham welcomes Sam aboard the ship. Talbot begins to question Sam about his interest in the Sunda Trench, but Sam tells him he's just looking to get away. Talbot probes further, indicating knowledge of a girlfriend, and suggests that Sam is running away from something. Sam is unnerved. Ockham tells Talbot that they need Sam, as their destination could be hazardous to the electrical equipment. Talbot consents, but says that he will install security measures.
Transcript
"

OCKHAM: What's your name?
SAM: Sam Thomas
OCKHAM: Welcome aboard. I'll show you the cabin.
TALBOT: What's your interest in the Sunda Trench, Sam Thomas?
SAM: Like I said, I'm just looking to get away from it all for a while.
TALBOT: Get away or run away?
OCKHAM: Does it really matter? You ask half the crew that question...
TALBOT: My employers know all they need to about you and your crew Mr. Ockham. They have too much at stake to risk any surprises. But Sam here is a mystery.
SAM: Oh I wouldn't worry, I'm just your regular guy next door.
TALBOT: Yes. Honest. Hard-working. Easy-going.
SAM: Yeah. Something like that.
TALBOT: Perfect girlfriend... I wonder what you're 'getting away' from?
OCKHAM: Right, come here. Look, I can't guarantee your equipments gonna hold out. Given our destination, I can't rule out a complete electronics meltdown. [pointing to Sam] This is an insurance policy you need to take out.
TALBOT: Call me when it's fully operational. I'll need to install security measures. [to Sam] Welcome aboard.
OCKHAM: You really know how to make friends don't you.

"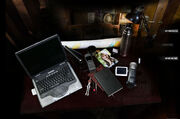 Sam's desktop change
Sam's desktop has changed to one that is aboard the Christiane I. The active items are still present, i.e. laptop, flight manifest, camcorder, and video tape, but the cell phone has changed to what is presumably his sat phone. There are some new additional non-active objects: his rolled-up map, a canteen, and a drafting compass.
Update
Although Sam's phone aboard the Christiane I initially didn't have the message from his mother on it, as of January 9, it appeared on the phone.
Email
Inbox
Sam receives a mysterious email with no subject an no sender listed. The only thing it contains is rows of numbers interspersed with occasional dashes and periods. All of the characters are in black typeface except for eight, which are in gray: "-", "1", "1", ".", "1", "7", "8", and "4" - or "-11.1784". Sam later figures out that these numbers correspond to geographic coordinates, and plans on locating them on Talbot's chart plotter.
The characters in parentheses are gray in the original email:
"

342423424243242442423688608768686
76(-1)561653957349753495349573009808
4957349573495349634795734934798799
5893475389475349753495783457987722
8345734(1.)985739857349857398573980123
5798573948578934573942340284094546
2342342422342344234324234233245745
56(1)5685979958574663434553534534344
56545664564564564566464646645899
4564565464646656464564564568129382
4500242094803948239048230482..2(7)233
2340723407820209420945897097650721
0438204820348023480234980298402389
2038482038340238097698745697959677
9384798327423975924560943695487988
2384723940927592759237497982344567
2394794560465967526794230472472439
23948749724920142397927592569725611
3924723948792472965379560640(8)111302
9807079787897987123123123472658345
34576786656652394956032560342560525
29374627654286757385682375628346234
38274628369858695687569262394624240
23498623463284632842555054036305054
121203(4)862130432945761699533512508
1208461238462992344921943269423906
1236130293209471230913525915972343

"
Web browser
The url for the page about the Sunda Trench has changed from "http://www.findinfoout.com/sundratrench" to "http://www.findoutpedia.com/sundatrench". These domains are not registered.
This day in summary
Sam fixed the chart plotter to gain a spot on the Christiane I.
Sam received a mysterious email containing a long string of numbers and characters, with eight being gray instead of black.
Community content is available under
CC BY-NC-ND
unless otherwise noted.