On this day
The recorded message on the Oceanic Hotline revealed through the clues on January 2 changed. New Oceanic billboards are also found around the world. Sam also sends and receives a new email. In the email he receives he is notified of his release from Oceanic and he then sends an email to Austral Air looking for a job.
The new message
The message by Georgia Cavanagh changes to the following recorded message:
| | | |
| --- | --- | --- |
| " | Thank you for calling the Oceanic Airlines Flight 815 Hotline. Information is updated as the investigation proceeds. Investigations are thorough and as such may take a period of time to complete. At this time we do not have any additional information regarding crashed Flight 815. If you are a family member or relative of a passenger on Oceanic Flight 815, we are sorry for your loss. Detailed information is given during the daily family briefings. This briefing updates families on the progress of the investigation and allows for questions to be asked of the medical examiner or coroner and other parties connected to this investigation. Please contact your accident coordinator or call back later for more information. | " |
Billboards
Billboards advertising Oceanic Airlines have been found in seven of the nine cities featured in the Oceanic Airlines press release. Speaker at EvilPuppetMasters.com[1] posted links to the two Billboards found in Portland, OR and Tustin, CA. The billboard found in Portland says "A new life awaits you in Seoul" and the one in Tustin reads "Discover the mysteries of Berlin". Also, in Ames, IA, a billboard was found reading "Lose yourself in London". As well, yet another billboard was discovered in LA, California, this one linking to Sydney. Billboards in New York and Knoxville have also been found. [2]
A billboard found in Sydney, Australia has made things come full circle. It simply reads "Fly to L.A.".
Each billboard found so far has displayed a different destination, with the exception of Berlin, among the nine cities listed in Oceanic Airlines' press release. So far, the list goes as follows:
Tustin to Berlin
Portland to Seoul
Ames to London
Los Angeles to Sydney
Knoxville to Los Angeles
New York to London
Sydney to Los Angeles
Seoul to ???
London to ???
Sam's desk - web browser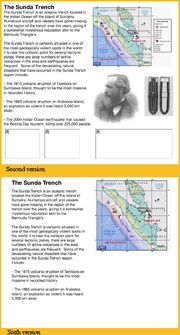 The webpage open on Sam's laptop on the Sunda Trench has been slightly changed, with the legend now completely removed. It seems likely that this change is to correct the legend's mention of December 26 2006, which had previously been discussed in the text before being removed.
Sam's desk - E-Mail
Inbox
E-Mail from Sean Dowling (Oceanic Air) Subject: Termination of Employement
"

Dear Mr Thomas

Further to our meeting of last week, I confirm that your employment with Oceanic Air is terminated with immediate effect.

The reasons for this termination were outlined at the meeting - namely, that despite repeated verbal and written warnings, you continued to make derogatory and unauthorised comments about Oceanic Air in public. This conduct was contrary to Section 23 of your Employment Agreement and is grounds for summary dismissal.

Your final payment will not be released until all company property has been returned and accounted for.

Yours sincerely

Sean Dowling

Employee Relations

"
Sent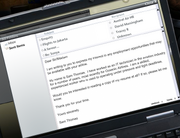 E-Mail to Austral Air HR Subject: Enquiry
"

Dear Sir/Madam

I am writing to you to express my interest in any employment opportunities that may be available with your airline.

My name is Sam Thomas. I have worked as an IT technician in the aviation industry for a number of years, most recently for Oceanic Airlines. I am a skilled, experienced worker who is used to operating under pressure and tight deadlines.

Would you be interested in reading a copy of my resume at all? If so, please let me know.

Thank you for your time.

Yours sincerely.

Sam Thomas

"
UPDATE: The Following E-Mail Has Since Been Deleted From The Laptop
See here
E-Mail sent to Oceanic Air Subject: Termination of Employment
"

Dear Mr Dowling

I refer to your previous e-mail.

I have returned all company property to Oceanic Air.

If there is any other reason why my final payment should not be released immediately, please let me know.

Your truly

Sam Thomas

"
Other
Speaker's official return
Inside the Experience is back online starting today, which means that Speaker is now an official part of ABC again after his role in The Lost Experience. [3]
This day in summary
The message at the new Oceanic number changes.
Billboards advertising Oceanic Airlines are found in seven of the nine cities featured in the Oceanic Airlines press release.
It is found through Sam's E-Mail that his employment with Oceanic has been terminated and that his is seeking employment from Austral Air.
Inside the Experience comes back online.
Community content is available under
CC BY-NC-ND
unless otherwise noted.