Message from Mum


Sam's phone indicating a new message
Sam received a voice message from his mother:
| | | |
| --- | --- | --- |
| " | Hey Sam it's Mum again. I phoned you the other day. You haven't called me back. I'm worried. I popped 'round to see you but no one was home. I know you haven't been yourself since Sonya disappeared. I'm worried you might do something silly. Please call me back this time. | " |
Sam's desk - email
Sent items
Email from Sam to Broadcasting Authority, subject: "Amelia Earhart broadcast"
"

Dear Sir/Madam

My name is Sam Thomas. I am a passenger on a vessel traveling the Indian Ocean off the coast of Sumatra.

The other night I was listening to a transistor radio in my cabin when I picked up what seemed to be a radio news broadcast reporting the disappearance of Amelia Earhart. The transmission seemed to report the events as if they were contemporary, which I found strange considering Miss Earhart disappeared in 1937. It lasted only a short time before I lost the signal.

Could you confirm if there were [sic] any radio documentaries broadcast in the last few days on Amelia Earhart's disappearance?

Any assistance you could give me would be most appreciated.

Thank you for your time.

Sam Thomas

"
Email from Sam to Tracey R, subject: "Camera"
"

Hiya,

Thought I should mention - that video camera you lent me is playing up. Something is interfering with the playback heads and affecting the motor drive. When was the last time you got it serviced?

S.

"
Inbox
Email from Phil Alston of the Broadcasting Authority to Sam, subject: "Amelia Earhart transmission"
"

Dear Mr Thomas

We refer to your recent email on this matter.

We have no record in our files of the transmission you received. Additionally, we have no record of any scheduled news reports or documentaries broadcast on this subject in recent months in the area of this authority. However, we do know that amateur radio enthusiasts broadcast a wide range of material, some of which includes historical recordings. This is the most likely explanation for what you overheard.

All the best

Phil Alston Broadcasting Authority

"
Email from Tracey to Sam, subject: "Camera"
| | | |
| --- | --- | --- |
| " | That camera was working when I last used it. It better be OK when I get it back. | " |
Email from Tracey to Sam, subject: "black rock"
"

OK. I'm pretty sure this is what you're after.

"Black rock" most likely refers to a slave vessel, called the Black Rock, that mysteriously disappeared in 1881. It seems to have worked extensively around Indonesia and Papua New Guinea. I'd say the Black Rock is what the Christiane I is looking for.

Here's the rundown on it.

The Black Rock would conduct regular voyages from Britain to the South Indian Ocean, where it collected gold from the mines in Indonesia and Papua New Guinea. The ship would then sail to Africa where the gold would be exchanged for slaves. On the voyage that the Black Rock disappeared, Papua New Guinea traders claimed it sailed off in an Easterly direction, rather than West to Africa. The ship was never seen again. There were supposedly 40 crew members on board.

No exact information is available on who owned the Black Rock but it is thought it might be a company called New World Sea Traders.

It is also thought that the owner of New World Sea Traders, a former sea captain called Magnus Hanso, may have been captaining the Black Rock when it vanished.

After the Black Rock disappeared, New World Sea Traders was sold to a company called the East Ocean Trade Group. In the 1950s the East Ocean Trade Group was taken over by the Hanso Group, who renamed the company Allied Copenhagen Marine Merchants.

So when are you going to tell me what's going on?

Tracey

"
Sam's desk - web browser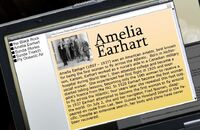 The web page about Amelia Earhart
Amelia Earhart
Sam has pulled up a website on his laptop with an article about Amelia Earhart:
| | | |
| --- | --- | --- |
| " | Amelia Earhart (1897 - 1937) was an American aviator, best known for being the first woman to fly across the Atlantic. Born in Atchinson, Kansas, Earhart worked as a nurse's aide in a Canadian military hospital during World War I, then attended college and became a social worker. She experienced her first flight in 1920 and soon started taking lessons, becoming only the 16th woman to receive a pilot's licence from the FAI. In 1928 Earhart became the first woman to fly across the Atlantic; four years later she repeated this feat solo. In 1937 Earhart attempted to become the first woman to fly around the world. On July 2, she and her navigator, Fred Noonan, disappeared en route from Lae, New Guinea to Howland Island in the Pacific. Despite an extensive search, her body and plane have never been recovered. | " |
The Black Rock
Also in his web browser is a page about the Black Rock, which gives a brief history of the slave ship and its disappearance:
| | | |
| --- | --- | --- |
| " | The Black Rock was one of the three 19th century slave vessels thought to be owned by the New World Sea Traders. The Black Rock usually sailed from its berth in Portsmouth, Britain to Africa, then on to the Americas or the Pacific Ocean. By the 1880s, its operations focused on the Indian Ocean, where the presence of US and British navies was not as strong. The final voyage of the Black Rock involved the ship leaving Portsmouth and travelling to the South Indian Ocean. The ship collected gold from the mines in Indonesia and Papua New Guinea, which was to be exchanged for slave in Africa. However, instead of sailing west to Africa, the ship left port in an easterly direction. It was never seen again. | " |
Notes on URLs
This day in summary
Sam receives a voice message from his mother, who is growing more concerned that he hasn't returned her previous call.
The Broadcasting Authority tell Sam that the transmission he heard regarding Amelia Earhart's disappearance was likely a historical broadcast.
Tracey figures out the significance of "black rock" and gives Sam information about the nature of the Black Rock slave ship.
The video camera is starting to malfunction.
Community content is available under
CC BY-NC-ND
unless otherwise noted.