On this day
Four new emails show up in Sam Thomas's mail box. There are 2 emails he sent and the responses. It is learnt in the emails that the Christiane I previously mentioned is a salvage ship docked in Jakarta that is about to leave on a confidential mission. It also appears Sam is going to try and get their before the ship leaves as he aquired tickets to Jakarta through a friend who apparently works at an airline.
The website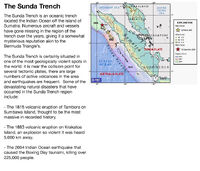 Full info before the Tsunami part was later taken out.]
A new website is available to be read on Sam's laptop. The site focuses on the Sunda Trench mentioned earlier.
http://www.findinfoout.com/sundatrench is the site on Sams computer, but it is not a real world web address.
When this site was first available there was a part concerning the 2004 tsunami in the Sunda Trench, this part has since been revised and omitted. But still the marker on the map marking the location of the tsunami remains, and in the legend 2 dates appear for the stars. Dec 26 2004 is marked beside the red star, March 28 2005 for the yellow stars marking. March 28 2005 was the date of the Indonesia earthquake and tsunami.
Perhaps they were included by mistake (they probably copied it from somewhere) and were removed because those events haven't happened yet, i.e. it is late 2004.
The emails


5 of the emails in Sam's mail box, including the 2 new ones, and 2 new sent messages.
Email 1: From Sam Thomas to Tracey R
"

Hi Tracey,

I need a favour: I'm looking for some information about a boat called "Christiane I". I can't say what this is for - sorry - just that it's very important

Thanks, you're a lifesaver.

S.

"
Email 2: Response from Tracey R to Sam Thomas
"

Sam

Aren't you the mysterious one?

Anyway, I've tracked down the "Christiane I" - it's a salvage vessel currently docked in Jakarta. Apparently it's due to leave on an expedition in a few days but I couldn't find out where to - the details are confidential.

What's the story? Are you looking for a new job now you've left Oceanic? Nice work if you could tee up something for yourself in Indonesia. Look out Bali!

Take care

Tracey

"
Email 1: From Sam Thomas to David Massingham
"

Mate

Need your help. I need to get to Jakarta asap but all flights have bee booked out. Can you help us at all?

Sam

"
Email 2: Response from David Massingham to Sam Thomas
"

Mate

I finally managed to squeeze you on a flight - but don't tell my supervisor! It'll be at the counter for collection under your name, booking ref# R7MKCH

08:50 Sydney 11:45 Darwin FLT 511
14:15 Darwin 15:15 Jakarta FLT 601


Cheers

David

"
Pack Sam's Bag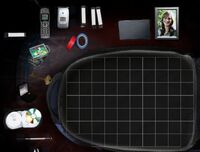 Ready to pack.

An extra game called "Pack Sam's Bag" appeared on January 1 on the ABC site. According to the text, Sam Thomas is heading for the Sunda Trench to look for the mysterious Black Rock. But squeezing all the items from his desk into his backpack proves difficult. This activity tested spatial logic, and was accomplished by "dragging and dropping" the items into a "bag". One who achieved this was rewarded with the exclusive Lost Season 4 clue word "Matthew", and is directed to find815.com for a bonus clue.
Note
The mini-game showed up slightly before the emails indicating Sam intended to go to Indonesia appeared on find815.com.
This day in summary
The Christiane I (a clue found previously) is a salvage ship docked in Jakarta.
It is found through e-mails that Sam is planning to go to Jakarta.
A game appeared on the ABC site, which on completion would give the clue word Matthew.
Community content is available under
CC BY-NC-ND
unless otherwise noted.