Several fan events dedicated to or featuring Lost have been held, in addition to comic conventions and Lost conventions.
Academy of Television Arts & Sciences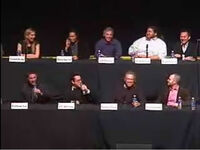 The Academy of Television Arts & Sciences (ATAS) held the event "An Evening with Lost" on January 13, 2007 at 7:30pm at the Leonard H. Goldenson Theatre in North Hollywood.
Attending were executive producers Bryan Burk, Jeff Pinkner, Jack Bender, J.J. Abrams, Carlton Cuse, and Damon Lindelof, as well as cast members Elizabeth Mitchell, Daniel Dae Kim, Jorge Garcia, Michael Emerson, Henry Ian Cusick, Emilie de Ravin, Yunjin Kim, Matthew Fox, Evangeline Lilly, Josh Holloway, and Dominic Monaghan.
External Links: YouTube - Part 1 of 10 of the full ATAS event.

Destination L.A.

Destination: L.A. is a charity fundraiser that celebrates the fandom for Lost, benefiting J.J. Abrams' favorite charity, the Children's Defense Fund. The fundraiser has been held in 2005, 2006, and 2007.

Golden Apple
]
Lost producer Damon Lindelof appeared at a Q&A session sponsored by Comic Book Resources (CBR) held at Golden Apple Comics in Los Angeles, CA on October 28, 2009, for a signing of Damon's hardcover book "The Ultimate Wolverine vs. Hulk". [2] [3]
McFarlane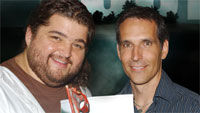 Launch parties for the McFarlane Lost action figures have been held, which included fan signing events. On November 6, 2006, Jorge Garcia and executive producer Bryan Burk joined Spawn creator Todd McFarlane at the Toys "R" Us store in Times Square in New York City for a fan autograph session to help launch the series 1 Lost action figures.[4]

Meltdown
Meltdown Comics [5] is a comic store based in Hollywood, CA, that has been host to several Lost-themed fan events[6].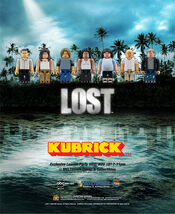 Meltdown Comics hosted a Lost signing event on November 19th 2008[7], involving many of the producers and writing staff including J.J. Abrams, Damon Lindelof, Carlton Cuse, Adam Horowitz, Edward Kitsis, Elizabeth Sarnoff, Paul Zbyszewski, Melinda Hsu Taylor, Kyle Pennington, and Brian K. Vaughan.[8]
The event was the launch of the Kubrick action figures and featured some original artwork by Jack Bender, including the "Hatch painting" and one of Widmore's paintings.[9] Of special note, legal disclosure notice[10] was placed outside the venue to notify people that filming for the Season 5 DVD would be taking place. A video about the evening was released on Dharmaspecialaccess.com.[11] A gallery of this event is available at Lost Media Mentions.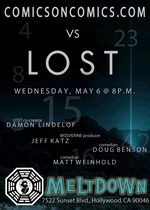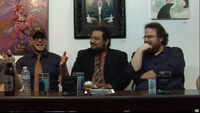 On May 6, 2009, Meltdown hosted the "Comicsoncomics.com vs. LOST and WOLVERINE!" event hosted by Juan-Manuel Rocha, featuring an appearance by producer Damon Lindelof. Lostpedia was briefly mentioned in the questioning of Damon Lindelof. Lindelof also explained the effect of killing off characters from the show on the willingness of the actor to return later for a flashback, citing Cynthia Watros, who was said to not be willing to return to reprise her character, Libby. He also explained the relationship of the ABC's role in the original genesis of the show as a Survivor-turned-drama, as well as the motivation behind why the creators, during Season 3, negotiated the end of the show with the network. He also mentioned the role of ABC's marketing senior vice president Michael Benson, in conceiving of the idea to insert commercials for the Hanso Foundation during the commercial breaks of the television broadcasts of Lost. The video (49:19 min) of the interview is available here, although there is no transcript.
External links
Hawaii International Film Festival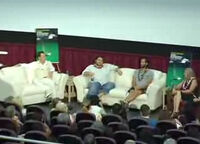 The Hawaii International Film Festival (HIFF) in 2006 and 2009 held Lost-themed fan events.

Lost Live: The Final Celebration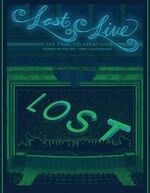 Lost Live was held at UCLA's Royce Hall on May 13, 2010 to celebrate the finale of Lost. Appearing at the event were several cast members, including Josh Holloway, Jorge Garcia, Daniel Dae Kim, Michael Emerson and others, composer Michael Giacchino, as well as Damon Lindelof and Carlton Cuse. Proceeds fron the event were donated to The Colburn School for the performing arts in Los Angeles. The event concluded with an early screening of What They Died For.
Lost Underground Art Project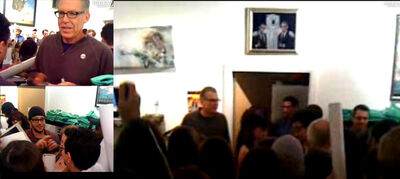 ]
"Lost Underground Art Project" was an event hosted by Paul Scheer on December 15, 2009 from 7 -10 p.m. at Gallery 1988 in Los Angeles. All 16 original screen prints commissioned by and revealed via the damoncarltonandapolarbear.com ARG were on display. In addition to these prints, an additional twenty-five commissioned LOST inspired artworks were available for viewing.[12] [13]
External links
Lost Weekend

The "Lost Weekend" (also "The Lost Weekend Fan Party") is a Lost fan event organized by the official discussion forum The Fuselage which is also a charity auction event benefiting the Children's Defense Fund. The event has been held in 2007 and 2009, and one planned for 2010. Crew members, especially those known to frequent The Fuselage forums, have attended past events.
2007
Lost Weekend 2007: Lost cast members that attended included L. Scott Caldwell, Sam Anderson, Daniel Roebuck, Byron Chung, Andrea Gabriel, and Maggie Grace, as some writers and actors from the ARG The Lost Experience. Lost writers, producers, and production staff also attended, including Jeffrey Lieber and Craig Wright. The 2007 Lost Weekend auction raised $4000 for charity.[14]. The event was organized by three fans by the first names of Bob, Caron and Bridgette.[15]
2008
Lost Weekend 2008: An event for 2008 was planned, but was canceled, due to events related to the WGA strike. [16]
2009
Lost Weekend 2009: The 2009 event was held between April 3 and 5 at the Hilton Los Angeles in Universal City, CA. Script supervisor Gregg Nations and former writer Javier Grillo-Marxuach were in attendance.
2010
LOST Weekend - The Finale: The 2010 event will be held between May 14 and 16 at the Hollywood Renaissance Hotel in Hollywood, CA.[17] [18]
External links
Paley Center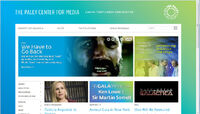 The Paley Center for Media has been host to several public Lost-related events in 2005, 2008, and 2009.

Sunset on the Beach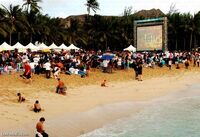 Sunset on the Beach is a public service program by the City and County of Honolulu, Hawaii that presents films for free to the public on an outdoor screen. The venue presented the world premiere of the season-opening episodes of Lost Season 1, 2, 3, and 6. Season 4's event was not held due to the WGA strike[19].
LOST 2014
A non-profit fan gathering will take place in Hawaii September 20 – 22, 2014, to celebrate the tenth anniversary of the premiere of Lost.
See also