Real World article
(written from a Production point of view)
Evangeline Lilly
Character(s)
Kate Austen
 
Date of Birth
August 3, 1979 (age 39)
 
Origin
Fort Saskatchewan, Alberta, Canada
 
IMDb profile
Nicole Evangeline Lilly played the role of Kate Austen.
Background
Nicole Evangeline Lilly was born a native Canadian (and is fluent in French). Her father is a home economics teacher, and her mother worked as a cosmetician and ran a daycare center. She has two sisters.
Lilly attended the University of British Columbia where she attained a degree in international relations. She has been a fervent volunteer for children's projects since the age of 14, and she founded and ran a world development and human rights committee at her university.
Prior to her starring role on Lost, Lilly worked as an extra on film sets to help pay her University tuition. She also starred in episodes of Tru Calling, Dead Like Me and Smallville, Kingdom Hospital, and in several films, including Stealing Sinatra. However, her first big break did not come until Lilly was "discovered" by Lost producers for the role of Kate. Evangeline was almost not able to work with the cast because she had problems obtaining a work visa, and got the visa after filming for the "Pilot, Part 1" had already begun.
She was engaged to co-star Dominic Monaghan from 2004 to 2009. But they broke up in autumn of 2007, and again permanently in 2009. She had her first child, a boy, with boyfriend Norman Kali in May 2011.
Early on the morning of December 21, 2006, a day before the Lost cast broke for Christmas vacation, Lilly's rental house in Hawaii was destroyed in a fire. There were no injuries as she was at work at the time, her two housemates (one of them a Lost crew member) were also not home.
She played a character newly created specifically for Peter Jackson's three part feature adaption of "The Hobbit." The character is a Woodland Elf named "Tauriel" which means "daughter of Mirkwood."

Filmography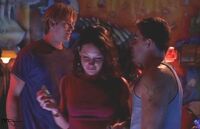 Evangeline Lilly in Smallville
Feature films
Ant-man as Hope van Dyne (2015)
The Hobbit: The Battle of The Five Armies as Tauriel (2014)
The Hobbit: The Desolation of Smaug as Tauriel (2013)
Real Steel as Bailey Tallet (2011)
The Hurt Locker as Connie James (2008)
Freddy vs. Jason (2003) as school student next to locker (uncredited extra?)
Stealing Sinatra (2003) as model in commercial
Television
Lost (2004-2010)
Kingdom Hospital (2004), 1 ep as Benson's Girlfriend
Tru Calling (2003), 1 ep as Party Guest
Smallville (2002), 1 ep as Wade's Girlfriend
Judgement Day (2002), 1 ep, as JD Girl
Awards
She was nominated for a Teen Choice Award for Choice Actress in a Drama Series and also received a 2007 Golden Globe nomination for Best Actress in a Drama Series.
Media appearances
Talk show
Lilly has appeared as a talk show guest in the following:
November 12, 2004 - Late Show with David Letterman (S12 E 2304)
January 17, 2005 - The Tonight Show with Jay Leno (S13 E2855)
May 6, 2005 - 20/20 "Lost Special" (S26 E1396)
May 11, 2005 - Live with Regis and Kelly (S17 E354)
January 11, 2006 - Live with Regis and Kelly (S18 E505)
January 13, 2006 - Jimmy Kimmel Live! (S4 E361)
September 27, 2006 - The Tonight Show with Jay Leno (S15 E3221)
February 27, 2007 - Late Show with David Letterman (S14 E 2750)
April 24, 2007 - Punk'd (S8 E59)
May 21, 2007 - Live with Regis and Kelly (S19 E20352)
February 12, 2008 - Late Show with David Letterman (S15 E 2908)
February 13, 2008 - Live with Regis and Kelly (S20 E4973)
Source: tv.com
Magazine
Lilly has been featured as the main topic of the following magazine articles or zines:
Sources: [1]
Miscellaneous
Trivia
Kate, her character on Lost, is frequently seen climbing trees. This is because the very athletic Lilly loves to climb trees herself.
Lilly loves ice skating, canoeing, kayaking, snowboarding and rock climbing. [3]
She is a devout Christian. [4]
One of her front teeth is a fake. [5]
She has worked as a flight attendant, waitress, and completed oil changes on big rigs while doing commercials and modeling to earn money for University. [6]
She has lived under a grass hut in the jungles of the Philippines with a missionary group when she was 18. [7]
Did a commercial for LiveLinks.
She was known on-set as 'Small-Bladder Girl' because she would always interrupt takes to pee in the jungle whilst filming.
Since her newfound success with Lost, Evangeline has presented the Tragically Hip at Live 8 Canada, was voted one of the Breakout Stars of 2004 by Entertainment Weekly Magazine and was No.2 on the Sexiest Women in the World list by Maxim Magazine (2005).
In 2006 she received a 2007 Golden Globe nomination for the Best Performance By An Actress In A Television Series (Drama) for her role as Kate.
She lets her publicist send her to only one "big event/party" in Los Angeles a year. [8]
She believed that "99% of the women in this world " wanted Kate to end up with Sawyer, but to go with what'd work for the story she though "it's gotta be Jack". She hated how Kate couldn't decide which man she wanted. [9] She also "desperately" wanted Kate to be pregnant with Sawyer's baby. http://media.smh.com.au/?rid=30149&category=Red%20Carpet]
On April 15, 2011, Us Weekly reports Evangeline Lilly's first pregnancy with boyfriend Norman Kali, who worked as a production assistant on LOST.
External links
Miscellaneous
References
Community content is available under
CC BY-NC-ND
unless otherwise noted.