Emmanuel was a biologist of the DHARMA Initiative. He was working at the barracks assigning new recruits to the registration counter in 1973.
On the Island
1973
Working as a DHARMA representative at the Processing Center, Emmanuel called Roger Linus up to receive his job assignment, and passed Roger off to Opal, who gave Roger his DHARMA jumpsuit with the tag "Work Man". He also smiled at Buzz when he walked past him. ("The Man Behind the Curtain")
1992
He may have been killed along with other members of the DHARMA Initiative in the Purge, or he may have left the island sometime between 1973 and The Purge.
Trivia
The character was credited as DHARMA Rep. 1, and his name Emmanuel was listed on his DHARMA jumpsuit.

Although the exact name could not be identify from his jumpsuit in the episode, actor Gregory Suenaga has later provided some information about his character, including the revelation of his character's name.
Gregory Suenaga also claimed his character was never killed on camera, suggesting he did not film for the purge scene. However, Suenaga believed the assumption was that his character was killed along with other DHARMA members, as they couldn't bring him back for another role.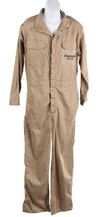 In Lost: The Auction, Emmanuel's DHARMA jumpsuit was the item of lot #822. The estimated price is $100 - $200, and it has been sold for $1,100.

According to the jumpsuit, Emmanuel was a biologist.
Oddly, the jumpsuit was sold without any DHARMA logo embroidered on it, where there was one as seen in the episode. The same situation also happened to Cornelia and her jumpsuit.
Although being worn in season 3 by actor Gregory Suenaga, the jumpsuit was listed as a season 5 item in the auction, suggesting it might also been worn by an unidentified background extra in season 5.