Elizabeth Sarnoff has written the following episodes of Lost:
Sarnoff joined the crew as a producer and writer for the second season. She became a supervising producer for the third season. She returned as a supervising producer for the fourth season. She was promoted to co-executive producer for the fifth season and finally became an executive producer in season six.
Appearances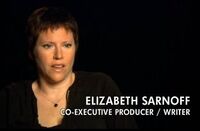 Later career
Sarnoff reunited with J.J. Abrams as an Executive Producer for the series Alcatraz in 2012. She was a co-creator of the series. The show was canceled after completing a thirteen episode order.
Trivia
She was the last "Lost" writer to pen an episode on her own. ("

Abandoned

")
Prior to "Lost," she worked on the HBO series "Deadwood," where she wrote some episodes, was an executive story editor in the first season, and a producer of the second season). At least six actors from "Deadwood" have also appeared on "Lost": John Hawkes, Titus Welliver, Kim Dickens, Robin Weigert, William Sanderson and Paula Malcolmson. Director Alan Taylor also worked for both series in 2005.
She was also a writer and executive story editor for a season of the series "Crossing Jordan."
She was one of the screenwriters for the 2003 film "Chasing Papi."
In the episode "The Cure" (2008) of the J.J. Abrams show Fringe, a minor antagonist is named Elizabeth Sarnoff.
External links
This article is a stub
This crew-related article is short and lacking information. You can help Lostpedia by expanding it.