Elizabeth Mitchell portrayed Juliet Burke.
Biography
Elizabeth Mitchell (née Robertson) was born in Los Angeles, California, on March 27, 1970. She has two younger sisters, Kristie (born in 1978) and Kate (born in 1982).
Shortly after her birth, her family moved to Dallas, Texas, where she graduated from Booker T. Washington High School for the Performing and Visual Arts. In 1991, she graduated from Stephens College where she earned her BFA degree in acting. She also worked for six years at the Dallas Theater Center and a year at the Encore Theater. Her theatrical stage credits include productions of As You Like It, A Funny Thing Happened on the Way to the Forum, Measure for Measure, Baby, and Chicago.
Prior to her role on Lost, Elizabeth was featured in many films, her most notable roles include Linda in Gia, Mrs. Sullivan in Frequency, Edele in Running Scared, and Carol Newman Calvin in The Santa Clause 2 and its sequel, The Santa Clause 3: The Escape Clause.
Mitchell also has guest-starred in numerous TV shows including JAG, Boston Legal, CSI, ER, House, and V. She currently stars in the NBC post-apocalyptic science fiction television drama [1] Revolution as character Rachel Matheson.
She has one son, CJ (Christopher Joseph), born September 12, 2005. She lives in Seattle.
Filmography
Films
Comfort, Texas (1997)
Gia (1998)
Molly (1999)
Frequency (2000)
Nurse Betty (2000)
The Linda McCartney Story (2000)
Hollywood Palms (2001)
Double Bang (2001)
Man and Boy (2002)
The Santa Clause 2 (2002)
Gramercy Park (2004)
3: The Dale Earnhardt Story (2004)
Haskett's Chance (2006)
Running Scared (2006)
The Santa Clause 3: The Escape Clause (2006)
Answers to nothing (2010)
Prosecuting Casey Anthony (2012)
Kristin's Christmas Past (2013)
The Purge: Election Year (2016)
Television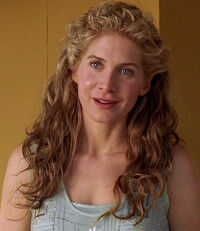 "Dangerous Curves" (1993)
"Loving" (1994-1995)
"L.A. Firefighters" (1996)
"The Sentinel" (1996)
"JAG" (1997)
"Significant Others" (1998)
"Time of Your Life" (1999-2000)
"ER" (2000-2001)
"The Beast" (2001)
"Spin City" (2001)
"The Lyon's Den" (2003)
"Law & Order: Special Victims Unit" (2003)
"CSI: Crime Scene Investigation" (2003)
"Everwood" (2004)
"Boston Legal" (2004)
"House M.D." (2004)
"Lost" (2006-2010)
"V" (2009-2011)
"Revolution" (2012-2014)
"Once Upon a Time" (2014)
"Crossing Lines" (2015-)
"The Expanse" (2018)
Awards
She was nominated for a Saturn Award for Best Supporting Actress on Television for her portrayal of Juliet in Lost for three straight years (2006 - 2008)

She won the award in both 2007 and 2008

Won the breakthrough award at 7th Annual Hollywood Life Breakthrough of the Year Awards.
Trivia
Media appearances
Talk shows
May 23, 2007: The View [5]
Magazines
Interviews
Miscellaneous appearances
External links
Fan sites
Miscellaneous sites