Real World article
(written from a Production point of view)

Dominic Monaghan (pronounced MON-a-han) is an English actor who played the role of Charlie Pace. Outside of Lost, he is well-known for playing the hobbit Merry in the film adaptation of The Lord of the Rings.
Background
Dominic Bernard Patrick Luke Monaghan[1] was born and raised in Berlin, Germany — he speaks fluent German to this day, although his native language is English. His family moved to England when he was twelve. Dominic still frequently returns to his hometown of Manchester in northern England, where he picked up his accent; Dominic's character, Charlie, is also from Manchester. ("The Moth")
Dominic attended St. Anne's RC High School and later studied English literature, drama and geography at Aquinas College. Dominic aspired to become an actor from an early age; following his second year at Aquinas, Dominic participated in school plays such as Oliver Twist, A Christmas Carol, and Bugsy Malone.
Dominic plays guitar and is a known music lover. Some of his favorite musicians are the Beatles, Radiohead, Coldplay, Interpol, and the Smiths.[2] Dominic has said that John Lennon is his personal idol:[3] he once ran from Paul McCartney at an Oscar party out of fear of having a potentially disappointing encounter with "the closest thing to what I see as a deity",[4] and he has a tattoo on his arm of a line from the Lennon song "Strawberry Fields Forever", reading "Living is easy, with eyes closed". (This tattoo is visible on Charlie's arm in Lost as well.) According to a May 11, 2007 Podcast, some of Dominic's other current favorite musicians are Imogen Heap, Keane, Kasabian, Thom Yorke, and Corinne Bailey Rae.
Dominic is also a passionate environmentalist, and participates in the Carbon Neutral/Future Forests campaign. He bought a small forest in India in early 2003 to protect it from deforestation.[5] Additionally, he appeared in a PETA ad concerning the treatment of wild animals.[6]
Career
Dominic first entered the world of show business in 1996 when he was discovered while acting for Manchester Youth Theater. He received wide attention for his first TV role, playing the young sidekick of the title character in the BBC detective series Hetty Wainthrop Investigates for four seasons. Dominic went on to his film debut as a Russian sailor in the 1997 HBO television movie Hostile Waters.
However, Dominic is best-known for his role in Peter Jackson's adaptations of J.R.R. Tolkien's The Lord of the Rings trilogy. In all three films, he played the role of the 4-foot-tall hobbit Meriadoc "Merry" Brandybuck. Along with several of his castmates, Dominic got a tattoo symbolizing his character being one of nine members of the Fellowship of the Ring: the Elvish word for "nine" on his right shoulder.[7] In 2005, Dominic also narrated a documentary about Lord of the Rings fandom, titled Ringers: Lord of the Fans.
On Lost
After achieving fame with his role as Merry, Dominic was primarily offered "fantasy, pixie, goblin kind of parts". Wanting to avoid being typecast, Dominic expressed a desire "to play someone different, a nasty and evil character".[8]
Through his role in The Lord of the Rings, Dominic was noticed and picked up for Lost. Dominic initially auditioned for the role of Sawyer, but was instead cast as Charlie. In the process, Charlie's character, originally a washed-up '80s musician in his mid-'40s, was rewritten to match Dominic's age.
In the early days of Lost, executive producers J.J. Abrams and Damon Lindelof vowed never to kill off Dominic's character, Charlie, though Dominic was skeptical of the idea that "anyone's really indestructible on this show".[9] In a May 11, 2007 Podcast, Dominic revealed that he didn't mind the idea of his character dying, expressing a desire to avoid being defined by the "Charlie" role and a belief that the relationships he'd forged during Lost would outlast his time on the show. Following Charlie's death in "Through the Looking Glass, Part 1", Dominic explained that he wanted to "move on", having grown frustrated with Charlie's less prominent role following Season 1.[10]
Dominic lives in Los Angeles, California, though he resided in Oahu, Hawaii between filming seasons of Lost. He is an avid surfer. Dominic was previously in a relationship with co-star Evangeline Lilly. At one point the couple was engaged, but broke up for a short period in the fall of 2007, and then broke up permanently in 2009.
Media appearances
Filmography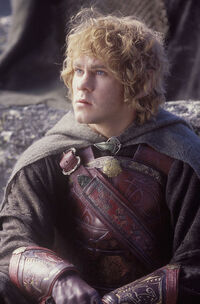 | Title | Medium | Character | Year(s) |
| --- | --- | --- | --- |
| FlashForward | TV Show, 15 episodes | Dr. Simon Campos | 2009 - 2010 |
| Chuck | TV Show, 1 episode | Tyler Martin | 2009 |
| X-Men Origins: Wolverine | Movie | Chris Bradley | 2009 |
| I Sell the Dead | Movie | Arthur Blake | 2007 |
| Lost | TV Show, 69 eps | Charlie Pace | 2004-2008, 2010 |
| Shooting Living | Movie | Owen Scott | 2005 |
| The Purifiers | Movie | Sol | 2004 |
| Spivs | Movie | Goat | 2004 |
| The Lord of the Rings: The Return of the King | Movie | Merry | 2003 |
| An Insomniac's Nightmare | Movie | Jack | 2003 |
| The Lord of the Rings: The Two Towers | Movie | Merry | 2002 |
| The Lord of the Rings: The Fellowship of the Ring | Movie | Merry | 2001 |
| Monsignor Renard | TV Show, 1 ep | Etienne Pierre Rollinger | 2000 |
| This Is Personal: The Hunt for the Yorkshire Ripper | TV Movie | Jimmy Furey | 2000 |
| Hetty Wainthropp Investigates | TV Show, 19 eps | Geoffrey Shawcross | 1996-1998 |
| Hostile Waters | TV Movie | Sasha | 1997 |
Talk show
Monaghan has appeared as a talk show guest in the following:
September 29, 2003 - The Sharon Osbourne Show (S1E11) [11]
February 29, 2004 - The Film Programme/Film 2003 (E8) [12]
October 15, 2004 - Jimmy Kimmel Live! (S2E163)
April 29, 2005 - Ellen: The Ellen DeGeneres Show (S2E150)
April 29, 2005 - Jimmy Kimmel Live! (S3E55)
May 24, 2005 - The Tonight Show with Jay Leno (S13E220)
May 25, 2005 - Jimmy Kimmel Live! (S3E70)
July 25, 2005 - The Late Late Show with Craig Ferguson (S1E120)
October 7, 2005 - The Tonight Show with Jay Leno (S14E73)
October 10, 2005 The Late Late Show with Craig Ferguson (S2E21)
January 11, 2006 - Ellen: The Ellen DeGeneres Show (S3E83)
January 11, 2006 - Corazón de...
January 30, 2006 - The Tonight Show with Jay Leno (S14E141)
May 18, 2006 - The Late Late Show with Craig Ferguson (S2E146)
July 7, 2006 - Friday Night with Jonathan Ross
October 3, 2006 - Live with Regis and Kelly
December 15, 2006 - The Late Late Show with Craig Ferguson (S3E62)
December 22, 2006 - The Late Late Show with Craig Ferguson (S3E67)
February 6, 2007 - Jimmy Kimmel Live! (S5E85) [16] (S5E13)
February 13, 2007 - Ellen: The Ellen DeGeneres Show (S4E95)
May 14, 2007 - The Tonight Show with Jay Leno (S15 E214)
May 21, 2007 - Late Night with Conan O' Brien
May 22, 2007 - The View [17]
October 4, 2007 - Late Night with Conan O' Brien (S15E23)
:Sources: tvrage.com, tv.com, tv.yahoo.com
Interview
Miscellaneous
Awards
Trivia
Kept a pair of the latex Hobbit feet used in The Lord of the Rings trilogy. (Friday Night With Jonathan Ross - UK Chat Show)
Has owned a leaf-mantis named Gizmo, a Black Widow spider named Witchitar and an albino snake named Blink. [26]
Shares a birthday with former co-star Ian Somerhalder.
His personal idol, John Lennon, died the day of his fourth birthday.
In addition to his Beatles and Lord of the Rings tattoos, Monaghan has a tattoo on his left foot of two stars—one white, one black. [27]
Loves wearing eyeliner and nail varnish. [28]
Supporter of Manchester United FC. [29]
Was engaged to his co-star Evangeline Lilly; they were due to wed in the Summer of 2007. They broke up in Fall of 2007 and got back together in April 2008. [30]
Also played a rock star in an episode of the TV show Chuck called "Chuck versus the Third Dimension".
In 2010 he appeared with Megan Fox in Eminem & Rihanna music video "Love the Way You Lie"
He is the only one of the 14 main actors of Season 1 to never have been an American citizen
References
External links
Miscellaneous