Fanon
(Fan created content. Distinct from hoaxes and parodies)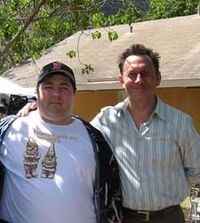 "DocArzt" (real name Jon Lachonis) is a television entertainment writer who blogs about Lost. His online handle is a reference to Lost character Leslie Arzt.
DocArzt founded the Lost fan website and blog thetailsection.com in 2005. The site was later purchased by BuddyTV, although he continued to administrate and blog on the site as DocArzt, as well as write for the BuddyTV television blog under his real name. He left the site in November 2007. In January 2008, he became one of the writers for the Underground Online (UGO) television blog [1], writing under his real name, and also founded and began posting to a personal Lost blog at docarzt.com as DocArzt. [2]
In 2008, Jon Lachonis co-wrote a behind the scenes book on Lost titled "Lost Ate My Life." The book features a Foreword by former Lost executive producer Javier Grillo-Marxuach, and is a collection of essays written with Amy J. Johnston (Hijinx of The Fuselage) concerning the history of the show and the fan-scene that developed around it. Lostpedia.com is cited frequently as a source for the book.
In January 2009, TheTailSection, under the management of BuddyTV, removed the credit for all the hundreds of articles Doc Arzt had written for the site, replacing his bylines with other people's names, and offering no explanation for such unethical actions, which would amount to plagiarism. Doc, upon finding out about the deletion of his bylines, blogged about it here: http://www.docarzt.com/lost/commentary-a-legacy-lost-doc-gets-de-tailsectioned/. As a result, many follow-up commenters indicated their intention to stop visiting TheTailSection.
In March of 2009 DocArzt & Friends launched a podcast about Lost.
See also
External links